Futsal player banned for 10 games for making 'quenelle' gesture
Last updated on .From the section European Football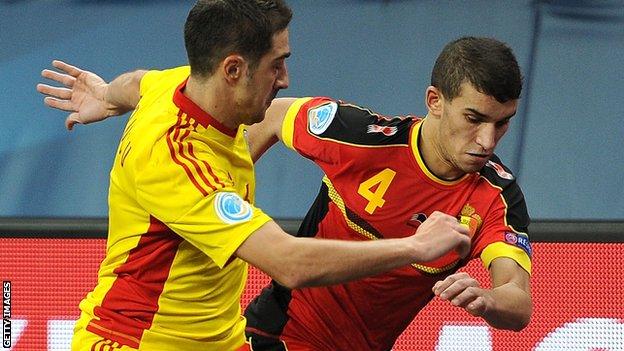 Uefa has given a 10-match ban to a Belgian futsal player who made a "quenelle" gesture like the one made by West Brom striker Nicolas Anelka.
Omar Rahou was celebrating a goal during a group game in Uefa's Futsal Euro 2014 tournament in Antwerp.
Anelka was banned for five games for making the gesture during the 28 December draw with West Ham.
The "quenelle" was devised by French comedian Dieudonne M'bala M'bala and has been linked with anti-Semitism.
European football's governing body Uefa - which also governs futsal, a variant of the sport played on smaller, indoor pitches - said in a statement: "The fight against racism and other discriminatory conducts is a high priority for Uefa.
"The European governing body has a zero-tolerance policy towards racism and discrimination on the pitch and in the stands.
"All forms of racist behaviour are considered serious offences against the disciplinary regulations and are punished with the most severe sanctions."