Dave King happy to meet with Rangers board
Last updated on .From the section Rangers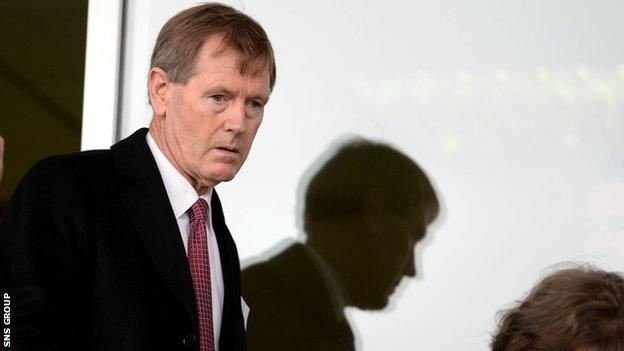 Former Rangers director Dave King has denied trying to undermine the club and says he would delighted to accept an invitation to talk to their board.
"I feel rather like the headmaster is looking to give me a caning," he said.
"There seems nothing potentially damaging to the club. I am delighted to meet with the board."
King is expected to fly to Scotland next week for a meeting with fans after he urged them to withhold season-ticket cash amid growing concerns about the club's finances and now says he would like to meet club officials during his visit.
Rangers had responded to the South Africa-based businessman's pronouncements with their demand that he explain his actions to the board.
"It is most unfortunate that you have sought wide media coverage of what should really be a private invitation," King replied. "I feel compelled to respond in similar vein.
"I reviewed my two statements in light of your email and don't find anything astonishing in them whatsoever.
"They neatly and uncontroversially depict the present state of affairs at the club and the ongoing attitude of the board.
"Similarly, I can't detect any innuendos. It seems to me that my thoughts are stated pretty clearly and directly."
King had voiced his concern about £1.5m in loans taken out by the club with shareholders Sandy Easdale and Laxey Partners but denied that this undermined the club.
"In fact, the opposite seems to be the case," he said. "I accept, however, that my comments could be perceived as damaging to certain interests that are represented on the board.
"I don't equate that with damaging the club. The club is much bigger than the present board.
"I am not clear what 'allegations' you wish me to explain as I can't find any in my statement. It will assist in my preparation if you provide me with a list of specific 'allegations' that you want me to address."
Meanwhile, Rangers have appointed Philip Nash as their new company secretary, Companies House has announced.
It comes two months after they announced that the former Liverpool and Arsenal financial consultant's services would be used to overhaul their finances.
Now Rangers have confirmed that he has become the new secretary, replacing Brian Stockbridge, who also served as the club's finance director and resigned on 24 January.