FA Cup: Manchester City cult hero Uwe Rosler returns, 20 years on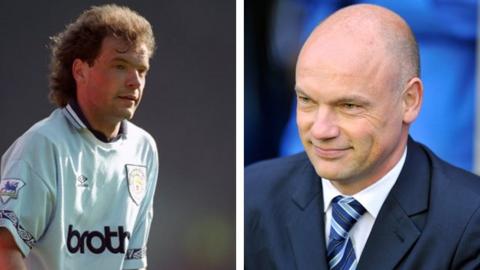 FA Cup sixth round: Manchester City v Wigan Athletic
Venue:

Etihad Stadium

Date:

Sunday, 9 March

Kick-off:

16:00 GMT

Coverage:

BBC Radio 5 Live, BBC Radio Manchester and live text commentary on the BBC Sport website
Some things have changed quite a bit in the 20 years since Manchester City fans met Uwe Rosler for the first time - that mullet has gone for a start.
City, too, are almost unrecognisable, having gone from being perennially skint and struggling to stay up, to big-spending trophy hunters who are chasing a domestic treble this season.
Their fans are still singing about Rosler, though, just as they were when he made his debut on 5 March 1994 as an unknown and unheralded former East German international with a bad haircut.
It took him less than 90 minutes to win them over, and start a mutual love affair that has lasted ever since. City's fans have seen many more talented players than Rosler in recent years, but few have earned more affection.
Before the end of Rosler's first appearance, which saw his backheel set up David Rocastle for the equaliser in a 1-1 draw at QPR, they chanted the German striker's name for the first time.
To the tune of the Pet Shop Boys anthem 'Go West', they will be singing 'Uwe, Uwe Rosler' again on Sunday, when the 45-year-old Wigan manager takes his side to Etihad Stadium in the FA Cup.
There are some very good reasons why Rosler says it will be an "emotional moment" for him too.
For Rosler's return to City is not just the tale of an old favourite coming back to face his former club - it goes far deeper than that. Their unique bond comes not through past glories but after helping each other through some dark days during the last two decades.
It started on the pitch: Rosler's industry and passion - and goals - were rare reasons for City fans to get excited during the mid-90s, when they tumbled two divisions in three seasons.
In the words of former chairman Francis Lee, who was in charge when Rosler joined, he was "the hero they had been waiting for".
Twenty years ago, Lee had just ousted his predecessor Peter Swales at Maine Road after months of fighting for control of the club. The boardroom battle had taken its toll on a team that was fighting for survival at the bottom end of what was then called the Premiership.
"We had no money but we were desperate for a striker," Lee told BBC Sport. "The agent Jerome Anderson offered us the chance to take Uwe on trial.
"Uwe had been at Middlesbrough for a couple of weeks but they did not want him so he went back to Germany. We brought him back over and he played in a reserve game for us against Burnley on a Wednesday night.
"The manager Brian Horton and I watched him play and at half-time Brian said to me 'what do you think?'. I said, 'he is passing the ball to people in a blue shirt and he has scored a goal: he is better than what we have got!'"
Horton agreed and Rosler joined, initially on loan, from Dynamo Dresden.
Despite not having played a first-team game in six months because of injury, he went straight into the City side to play at Loftus Road three days later.
Quickly forging an effective and prolific partnership with Paul Walsh, who signed soon after, Rosler scored five goals in City's last 12 games of the season. It was enough to keep them up - that year anyway.
Rosler's attitude impressed his team-mates too, as well as the fans. Then-City captain Keith Curle told BBC Sport: "He was not the prettiest player on the eye with the ball at his feet but he had a phenomenal work ethic.
"Back then we did not have the GPS systems we have now to measure player movement, but I would love to know the ground Uwe covered in games.
"It was not just on matchday, either. He set the standards for the team during the week in training too. I was usually marking him and the most memories I have of him are of having to kick him to try to stop him from running around so much!
"That is why the fans loved him so much as a player - the minimum requirement when you go to watch your team is that they come off the field having given everything possible for that shirt. As City captain I knew I would always get that from Uwe."
Over the next few months, Rosler's cult following grew and grew; inspiring a t-shirt and terrace chant that made a light-hearted and entirely fictitious claim about how his grandad was responsible for the time Old Trafford's Stretford End was hit by a Luftwaffe raid during World War II.
Their support boosted Rosler's belief. "I was untouchable, nothing bad could happen to me," he told BBC Sport. "I was just so full of confidence. I had never ever had that feeling before or after. It was a great feeling and obviously the fans played a big part in that."
Horton, the first of seven managers that Rosler would play under in his four years in Manchester, adds: "I can remember my family singing his name when they used to go to games. It went around the ground.
"The fans liked him because he scored goals but they absolutely loved him because he had that never-say die attitude."
Rosler left following City's relegation to the third tier of English football in 1998. Better times followed for his old club than he ever saw with them but, even so, he was never forgotten.
Those same fans who had appreciated Rosler so much during City's struggles on the pitch repaid him in his hour of need off it, when he was battling cancer in 2003.
As he remembers it: "I was in my hospital bed recovering from the latest dose of chemotherapy when an old friend from England called me up. He was at a City game and he said 'can you hear it, can you hear it?'
"He held up his phone and the City fans were singing my name and I could hear it echoing around the ground. The news had reached them that I was ill, but they were willing me to beat the cancer.
"They had not given up on me. It put a smile back on my face and gave me new hope and new motivation to get through a very difficult time.
"I had a bond with the club before, but it became unbreakable at that moment. I felt that, with that kind of backing, how could I possibly fail?"
When he recovered, Rosler went back to Manchester to thank the fans for their support and received another rousing reception.
By then, though, he was not just loved by City supporters for his gutsy performances on the pitch; he was loved for being a fan himself after going to watch the club's famous play-off win over Gillingham in 1999.
Rosler, 45, named his first son - now on the books of City's academy - after City legend Colin Bell, and his second son after another, Tony Book.
He was inducted into the club's hall of fame in 2009, admits to shedding a tear at Wembley when City ended their long wait for a major trophy by winning the FA Cup in 2011, and he was also was at Etihad Stadium when they won the Premier League title in 2012.
When Rosler moved back to England in 2010, he chose a base in Bramhall near Stockport, where he had lived as a City player. "It felt like home," he explained.
One of those t-shirts about his grandad is on the wall of his office, along with a shot of Rosler and Walsh, who remains a close friend.
Rosler has an affinity with the whole area, which is why he says he is looking forward to going back to Etihad Stadium as an opposition manager for the first time - even if he wants Wigan to win.
"When I was recovering from cancer I went there to say thank-you for the support I got," Rosler said this week. "Now, 11 years later, I am going to be there with a wonderful football club, as a manager.
"It is quite a story and the emotions will be there but I am a very professional guy and I can focus on the job in hand. So we will see - ask me how I coped after the game!"