FA to review bans for racism offences after Anelka verdict

By Richard Conway
BBC Radio 5 live sports news correspondent
Last updated on .From the section Football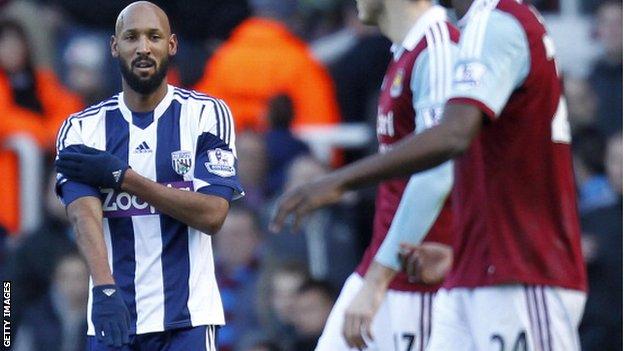 The Football Association will review its punishment of racism offences following the five-match ban handed to West Brom striker Nicolas Anelka.
The 34-year-old was suspended for performing the 'quenelle', a gesture strongly linked with anti-Semitism.
With the independent commission that found Anelka guilty due to publish its findings, FA chairman Greg Dyke wants to review his organisation's stance.
"We'll look at the whole thing again once this one has been done," he said.
"I think what we'll do is look at the judgement and then we'll ask those who deal with it: 'Do you think that's fair? Do we think we ought to change anything as a result of that?'
"We can't do that until we've looked at it. You should do all these things after you've considered them in some depth."
Anelka denied the FA charges after performing the gesture, described as an "inverted Nazi salute", while playing against West Ham in December.
However, the independent commission that adjudicated said in its ruling that both charges had been proven - that the gesture was abusive and/or indecent and/or insulting and/or improper, and that it included a reference to ethnic origin and/or race and/or religion or belief.
The panel added it did not believe Anelka had been deliberately anti-Semitic.
FA sanctions for racism offences were amended in May - in light of the high-profile cases involving Chelsea captain John Terry and Liverpool striker Luis Suarez.
Speaking in Zurich following a meeting of football's law-makers, Dyke said the FA will only decide whether to appeal over the length of Anelka's sanction once it has received the commission's written reasons for its decision.
He said: "We are all waiting until Monday to see what the judgement was."
Anelka is also considering whether he will appeal.
Meanwhile, Dyke said the FA commission examining the future of the England team is likely to produce "more radical" recommendations than he expected at first.
"I read that we're somehow going to take a more conservative approach - I think that's very unlikely," he said.
"I've read it's on the backburner and that came as a shock to me and almost everyone involved. We've done our interim report, which went to the board this week, and the board's decision is we push ahead, as we are."
Reports last week said the full report would be delayed until after the World Cup, with a suggestion England manager Roy Hodgson had asked for a postponement to avoid any distractions.
Dyke said: "Obviously you wouldn't want to bring out a report in the middle of the World Cup, or the week before it starts, so it's about the timing. But there's no truth in the idea Roy has laid down the law or anything like that.
"If you ask me to bet, it probably doesn't come before the World Cup but only because we might not have finished the work. If we finish the work, we'll publish it.
"We've done all the analysis and we've decided where we think the problems are. It won't come as a shock to anyone that we think the biggest problem is there's no pathway for kids between 18 and 21, when kids come through a very good system and can't get first-team football.
"The question is how do you achieve that?"