Michael Flynn disappointed over Newport County decision
Last updated on .From the section Newport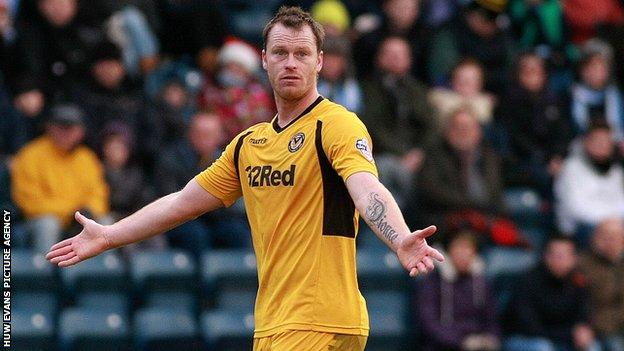 Newport County midfielder Michael Flynn says he is disappointed with Justin Edinburgh's decision not to offer him a new deal.
Edinburgh said he would still consider the pair for selection even though they would be leaving at the end of the campaign.
"It's been a nightmare if I'm honest," Flynn said.
"It's not nice but I'm a professional and I'm not the first one it's ever happened to and I won't be the last.
"I'm still contracted to Newport County and it's something I need to digest myself and then have a look and see what's about.
"It's not ideal but it's life and you've just got to get on with it. I've got to stay professional and keep myself fit.
"Hopefully when called upon [I can] do a job that the gaffer thinks 'hang on, maybe a bit of a knee-jerk reaction.'
"I've just got to try and change his mind."
Flynn, the 33-year-old former Wigan and Blackpool player, returned to Newport for a third spell in July 2012.
Former Wales defender Pipe, 30, joined Newport in September 2011 and captained last season's promotion winning side.
Manager Edinburgh was adamant he would not reconsider his decision and said there had been a big overreaction to the news.
"Obviously a lot's been made of it. I'm an honest manager and always want to be up-front with the players," Edinburgh said.
"I made the decisions that their contracts wouldn't be renewed for next season.
"They've not been mainstays of the team this season and haven't really played as regularly
"I did what I think was right to make those players aware of that.
"What's been made of that since … a lot of it's nonsense, a lot of lies have been spoken and rumours that are not true.
"The dressing room's together and fully focused on getting back to performing well."