Dale Farm named as new Milk Cup sponsor
Last updated on .From the section Football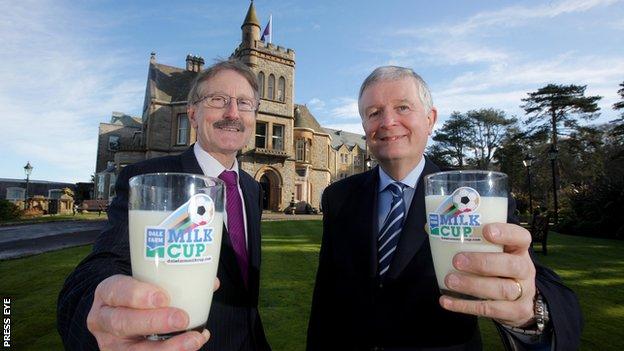 The Milk Cup has retained its link with the dairy industry after Dale Farm was announced as the youth tournament's new lead sponsor on Friday.
It is a major boost for the annual event after the Dairy Council for NI ended its sponsorship last year.
The tournament will be called the Dale Farm Milk Cup.
Future stars who have played in the competition include David Beckham, Ryan Giggs, Paul Scholes, Wayne Rooney, Neil Lennon, Joe Cole and Keith Gillespie.
"Over the past 30 years we have had an excellent relationship with the dairy industry in Northern Ireland," said Victor Leonard, Chairman of the Tournament's Organising Committee.
"This was through our association with the Milk Marketing Board, the Dairy Council for Northern Ireland and now we are pleased to continue it through Dale Farm.
"The Milk Cup, now known as the Dale Farm Milk Cup, has an established international pedigree and we are pleased to partner with a locally based company.
"It is a perfect fit for us at a time when we are exploring new and exciting innovations to our event.
"Over 65 countries have been represented in 32 years of the event and we have every confidence that the Dale Farm Milk Cup sees the start of a new phase in our continued development designed to further enhance our event."