Jackie McNamara sets Dundee Utd second-place target
Last updated on .From the section Football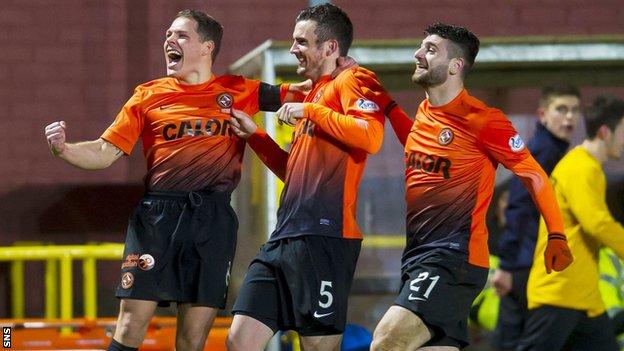 Dundee United manager Jackie McNamara has challenged his side to aim for the Scottish Premiership's runners-up spot.
The Tangerines are currently fifth in the table, 10 points behind second-place Aberdeen.
"The good thing is that we've still got to play Aberdeen twice," said McNamara, whose side on Friday.
"There are a lot of games ahead so if we do our job and keep getting the results then second place is still not beyond us."
United also have an interest in the Scottish Cup with a quarter-final against Inverness coming up and until 2017.
"There's still a lot to play for," said McNamara. "I'm sure there will be a few twists and turns between now and the end of the season.
"All we can do is look after ourselves and try and reach the standards we know what we're capable of.
"Things have been good in the past few weeks and we obviously want that to continue as much as possible."
Of Friday's trip to Easter Road, McNamara said: "This is the kind of game we should be looking forward to because we're going into it having won our last three.
"When you're in the winning habit there's nothing better as a team. I don't think we ever lost that much confidence even when we went through that not so good spell recently.
"But it's always better when you are getting results and we'll go and try to win the Hibs game as we do every match we go into.
"We will focus on what we are good at. We will try and pass the ball around and make things happen. That's what we're good at and will continue to try and play like that."