Plymouth Argyle: Tony Wrathall returns to board
Last updated on .From the section Plymouth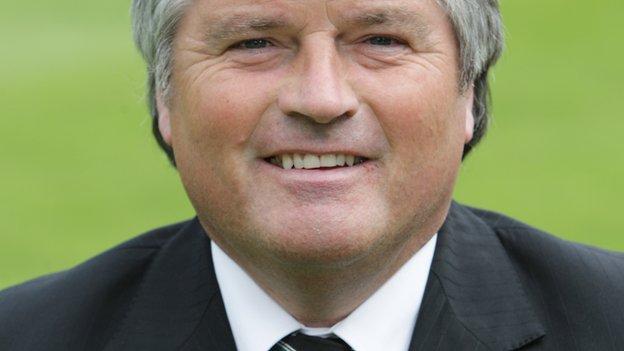 Former Plymouth Argyle director Tony Wrathall has rejoined the Pilgrims' board, three years after leaving amid the financial meltdown at the club.
The club went into administration in 2011 and were deducted 10 points which led to their relegation to League Two.
"I'm fully aware Tony's appointment will raise questions among the fanbase. But it's one I am comfortable with," said Argyle owner James Brent.
Club president Chris Webb says the news has made him consider his position.
"I have relayed my thoughts firmly to James Brent and the directors," said Webb in a statement.
"I'm really not sure where my future at the club lies... I will certainly not be able to frequent the boardroom at any point whilst Tony Wrathall remains on the board.
"I also know that unity is always the way forward and I will be attacked for breaking it but the decision is so divisive that bringing people together off the back if it is almost impossible."
Wrathall, who was one of seven directors during his previous spell at Home Park from 2005 until 2011, will principally focus on Argyle's academy on his return to the club.
"After taking over the club, we very rapidly got to the bottom of what had gone on in the period leading up to administration. It became abundantly clear that Tony was in no way responsible for the meltdown.
"Indeed, without his continuing financial support, the club would have failed many months earlier.
"Tony loves Argyle, and he wants to do all he can to contribute to its recovery, including financial investment. That makes total sense to me, and to all the other board members."
Argyle went into administration in March 2011, having already suffered a points deduction which ultimately saw them relegated from League One to League Two.
The financial difficulties also meant that players, staff and creditors, including small local firms, went unpaid or partially paid.
"I appreciate that many, many people have suffered very badly as a result of what happened at the club, and I am extremely sorry for that," 56-year-old Wrathall said.
"I thought long and hard, and came to the conclusion that the best way of trying to put this right would be, after a suitable period away, to offer the club my help as it looks to build again.
"That is why I have offered my services, and I am delighted that Argyle have invited me to rejoin the board."