England: Roy Hodgson may use psychologist for penalties
Last updated on .From the section Football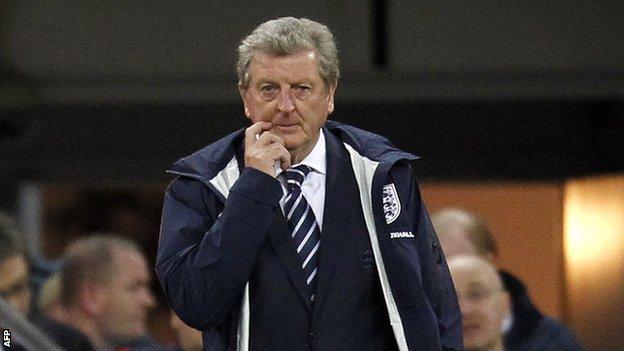 England manager Roy Hodgson will consider using a psychologist at the World Cup in Brazil to ensure players are better prepared for penalties.
Six of the last 10 major tournaments England have qualified for have ended in defeat via spot-kicks.
"We have some confident penalty-takers, but others less confident," Hodgson told Sky Sports.
"It's how we get to them. We need to know they are as well prepared as they can be."
Hodgson, who was in charge when England were beaten on penalties by Italy at Euro 2012, believes a professional sports psychologist could help his players handle the pressure of a shootout.
"It will be about their character, their confidence and their ability to block out the next morning's headlines," he added. "If a psychologist can find a way to block that out, then we'd be very, very happy."
Hodgson has also asked British cycling chief Sir Dave Brailsford to talk to his players before the World Cup gets under way on 12 June.
"One forgets sometimes how important these tournaments are and what big occasions they are," said Hodgson.
"You don't get that many shots at it and you have a lot of time to regret if you don't give it your best shot.
"I bet the world is full of players who reflect back on tournaments they have had and have said 'I wish had done a bit more, I wish I had concentrated a bit more, I wish I had known then what I know now'.
"Maybe Brailsford can put a few thoughts in their head."
Brailsford, who has masterminded the success of British cyclists on track and the road, will speak to the England squad before their friendly with Peru at Wembley on 30 May.
He was knighted last year in recognition of Britain's successes at the Beijing and London Olympics as well as the 2012 Tour de France victory for Bradley Wiggins.
Hodgson told BBC Radio 5 live in October 2012 that he would draw on the experiences of the country's other top national team coaches to help deliver success in football.
Brailsford believes football can learn from cycling and met with Roberto Mancini and Sir Alex Ferguson while they were managers of Manchester City and Manchester United respectively.