Rangers confirm £1.5m loans from Sandy Easdale and Laxey
Last updated on .From the section Football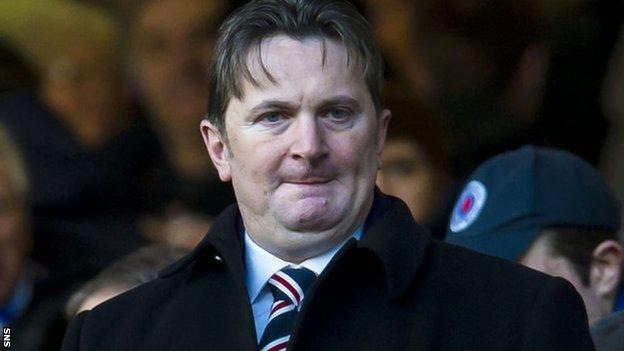 Rangers have confirmed they have borrowed £1.5m from shareholders Sandy Easdale and Laxey Partners Ltd.
Football board chairman Easdale is providing £500,000, while the investment group is supplying the rest of the funds.
The League One leaders announced a £14.4m loss in the 13 months to June and the playing squad refused to accept a 15% wage cut.
Rangers say the cash will be used for working capital over the coming months.
Easdale's cash comes on a no-fee and no-interest basis, while Laxey Partners will lend the club £1m, with both sums secured against the Edmiston House and Albion car park facilities near to Ibrox.
Both loans are repayable by 1 September, while Laxey Partners, the club's single-biggest shareholder with an 11.64% stake, standing to make a £150,000 profit on its part of the deal.
The Isle of Man-based hedge fund may opt to take repayment in the form of fresh shares, but that would require shareholder backing at an annual meeting.
Rangers raised £22m when they were floated on the stock market in December 2012, but former financial director Brian Stockbridge sparked concerns the club might be heading for administration for a second time last year when he claimed the club would be down to their last £1m by April.
However, after the new loans became public last week, recently appointed chief executive Graham Wallace insisted that the club were not facing a second administration.
The loans will now tide them over until season-ticket renewal fees start arriving at the end of the season.
A statement to the Stock Exchange said: "The board of Rangers is pleased to announce that it has entered into two secured short-term credit facilities for an aggregate of up to £1.5m.
"The credit facilities are being provided by Alexander Easdale, a shareholder in the company and director of The Rangers Football Club Limited, the wholly owned subsidiary of RIFC, and Laxey Partners Ltd, a substantial shareholder in the company.
"These credit facilities will be used by the company for general working capital purposes over the next few months."
After the loans became public last week, Rangers fans groups wrote to the club's chief executive seeking assurances about the club's financial future.
And, in a statement on Monday, the Rangers Supporters Association, Rangers Supporters Assembly and Rangers Supporters Trust expressed their concerns.
"We have been contacted by a number of Rangers supporters, who are also current shareholders, indicating they would have provided a secured loan of £1.5m on more favourable terms than the combined Laxey Partners/Easdale loans," the statement read.
"The terms of the Laxey loan in particular seem unduly onerous. We are concerned that not all shareholders are being treated equally.
"Fans and shareholders both deserve an explanation as to why other shareholders were not approached to provide this loan."