Inverness CT: John Hughes doubts a second-place finish
Last updated on .From the section Football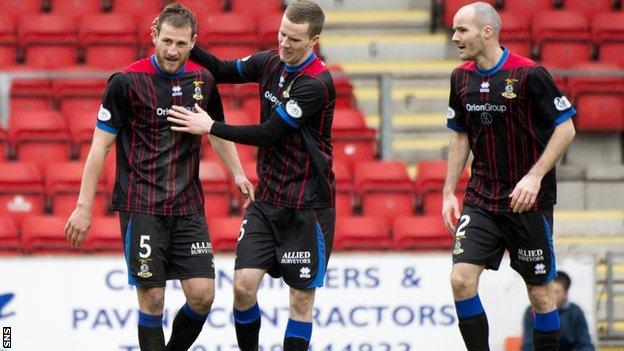 John Hughes fears Inverness will not be able to catch Aberdeen in second place, despite moving three points closer after beating St Johnstone 1-0.
The Highlanders earned just a third victory of Hughes' reign courtesy of a first-half header from Gary Warren.
"Can we catch Aberdeen? I don't know, it depends what we do, if we can keep winning football matches," said Hughes.
"I very much doubt it. I think it'll be Celtic and then Aberdeen, but as long as we stay in the mix I'll be happy."
Caley Thistle are due to face the Dons in the League Cup final in March.
"One thing I will say is that we don't want to sit back and rest on our laurels, in terms of being in a cup final and still being in the Scottish Cup," said Hughes.
"The league campaign's our bread and butter, I feel that's where you get judged, and so to come here and pick up the victory, I'm absolutely delighted.
"There's something in the water up in Inverness, I'm serious. With this bunch of boys in that dressing room, there are no egos, no 'Billy-big-times'.
"If they play good, indifferent or bad, you know you're getting 100 per cent. They train like that, they play like that, they live their lives like that.
"They're all in it together. We just take it as it comes. We've got a big game on Tuesday in the Highland derby and we're looking forward to it."
Inverness came under more pressure from St Johnstone after the break when Nigel Hasselbaink should have scored with a header from the ricochet off a Dean Brill save.
However, Hughes believes Caley Thistle were deserving of their victory in the end.
He added: "I think we were worth the win. In the first 10 minutes we could have been a couple of goals up.
"We got a little bit lucky in the second half when they missed a header just past the post; the boy should have scored."