Rangers fans seek assurances over borrowed funds
Last updated on .From the section Rangers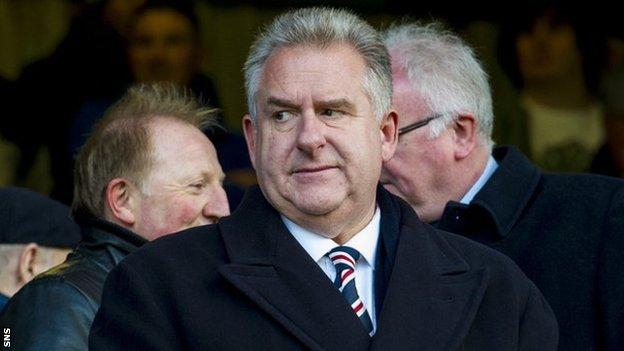 Rangers fans groups have sought assurances about the club's future after it was announced that they are aiming to borrow £1.5m.
Chief executive Graham Wallace told the club website that the funds for working capital were not an indication of a threat of a second administration.
But the Rangers Supporters Association, Assembly and Trust have asked Wallace for clarification.
They say he had claimed at their annual meeting they had sufficient funds.
Responding to the proposed loan by directors and/or selected shareholders, the fans groups said in a statement: "It is of great concern that, at the club's AGM in December 2013, Graham advised there was sufficient cash in the business for the club to be able to continue to trade in the short to medium term - yet two months later, we require a loan for working capital.
"We would also like assurances that the club have explored all options for attracting fresh investment and this is the best deal available to the club.
"On the day that the club launched a survey on listening to fans, they have ignored shareholding fans' overwhelming opposition to resolutions nine and 10 at the club AGM.
"Resolution nine seems to be being used to increase the influence of certain shareholders without affording the same option to others, which is an affront to shareholder democracy and rights."
The supporters' concerns relate to the ability, stated in resolution nine, of the directors "to allot relevant securities...up to an aggregate nominal amount of £217,000...and up to an aggregate nominal amount of £66,000 to employees and directors... and comprising equity securities up to an aggregate nominal amount of £434,000."
Resolution 10 refers to the empowerment of directors to allot "equity securities and sale of treasury shares for cash...by way of a rights issue only...in favour of holders of Ordinary Shares in the capital of the Company and to holders of any other equity securities as required by the rights of those securities or as the Directors otherwise consider necessary".