How I came out: Britain's only openly gay footballer
By Alistair Magowan
BBC Sport
Last updated on .From the section Football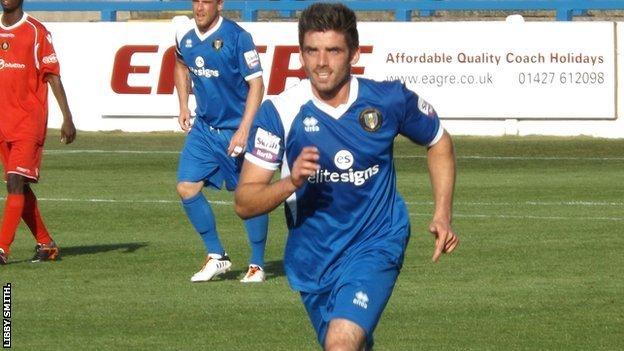 Gay footballer Liam Davis admits he has been abused plenty of times while playing for Gainsborough Trinity, six divisions below the Premier League.
The 23-year-old semi-professional player (pictured above, in blue) has been openly gay for four years and says the sniping in the Football Conference North can be brutal.
Yet, with one exception, most of the insults have been related to his height, which he takes with a pinch of salt.
"I get called 'dwarf' rather than anything else, but I can't argue my way out of that one," the 5ft 5in attacking midfielder tells BBC Sport.
"Players will do anything to get one over the opposition, so if it means putting them down and putting them off their game it happens across the board."
Davis says the only homophobic abuse he has received was "one snap comment from an opposition player" who later texted to apologise.
"I think players know where the boundaries are and I think it should be no different to racism," adds Davis.
His matter-of-factness on the issue chimes with his decision to talk honestly as Britain's only male openly gay semi-professional or professional footballer.
His story came to light in the Lincolnshire Echo after former Aston Villa and Everton player Thomas Hitzlsperger became the first ex-Premier League player to reveal his sexuality.
Unlike the former Germany international, who waited until he retired before coming out, Davis confided in players at previous clubs Selby Town and Brigg Town before telling current team-mates during a night out last summer.
"I just got to a stage in my life where I had no reason to hide who I was," he says.
Not since 1990, when Justin Fashanu came out and then tragically took his own life eight years later, has there been an openly gay footballer of renown in England.
The British media has been accused of obsessively searching for a gay professional ever since, often focusing on Swedish semi-professional player Anton Hysen, son of former Liverpool defender Glenn.
Anton came out in 2011 and was followed last year by former Leeds United winger and United States international Robbie Rogers, who simultaneously announced his retirement from football before later joining Major League Soccer team Los Angeles Galaxy.
Hitzlsperger quit football last year because of injury before deciding to come out, explaining he did not want to make an announcement while he was still playing for fear of generating any unwanted distractions.
Now we have Davis, a former Grimsby Town youth player who plys his trade at places like Colwyn Bay, Solihull and Harrogate.
But when does he think there will be an openly gay footballer playing professionally at the highest level?
"There is a long way to go," Davis says. "There are lots of things to consider - the media, agents, tens of thousands of opposition fans - so I can understand why people would be worried about it.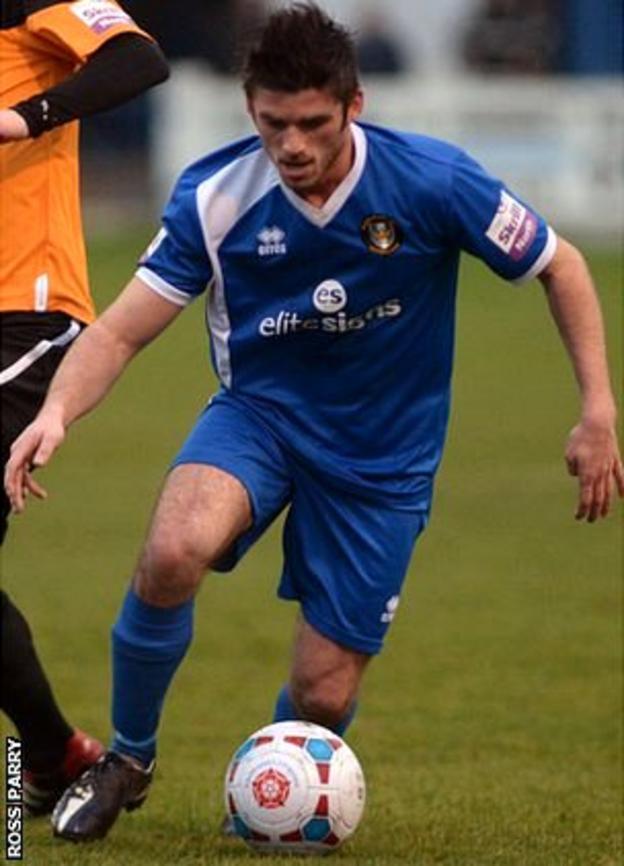 "But lower down the leagues, I can't understand why there aren't more gay players, because you are taking away those issues."
While Hitzlsperger was a full-time professional and could command a five-figure weekly salary, Davis trains twice a week, supplements his income by running a cafe in Cleethorpes with his partner, Neil, and plays in matches which attract up to 750 supporters.
Like others in the game, including Professional Footballers' Association chairman and Hartlepool defender Ritchie Humphreys, Davis doesn't think a player's sexuality would be a concern at professional level.
"There have been no dressing-room issues, nothing whatsoever, not in any of the clubs I have been at," he explains. "I've not had any nasty comments or seen any hiding away as such or anything like that."
Gainsborough team-mate Dominic Roma adds: "You accept people for who they are and it's never been an issue in our changing room."
It is clear that Davis enjoys a special bond with his current counterparts. After joining the club last summer, he describes how Gainsborough goalkeeper Phil Barnes, formerly of Blackpool and Grimsby Town, made a joke on a night out in Sheffield that broke the ice.
Davis had not spoken about his sexuality to his colleagues on arriving at Gainsborough, but Roma says: "Some of the lads knew some of his old team-mates and got an inkling from there, but none of us actually asked him until that night out.
"Liam just opened up and he was really pleased that we asked him and I think it was a weight off his shoulders."
"It was a little bit backwards the way it happened," Davis adds. "I didn't go out and tell everybody when I first arrived at the club, I just kept myself to myself at first.
"But all the lads and the manager knew from day one. It wasn't until we went out one night and our goalkeeper made a little joke about it, words that can't be repeated as such, but it just went from there.
"In the course of the evening, different people asked me different things and everybody was fine about it.
"All my team-mates are supportive, the manager [Steve Housham] is supportive. Ever since they have found out, the fans have been the same."
Roma, 28, said the discussion continued at training, the following Tuesday, and has been an educative experience ever since.
"All the lads said 'we will support you in whatever you do'," he says. "As we have gone on, the lads have asked more questions, which I think Liam has appreciated. It's not been intrusive but the lads have taken an interest in Liam's personal life since then."
Had he been on the field when Davis was abused for being gay, Roma says he would have sought retribution "within the laws of the game".
Alas he was injured and says the offending player whispered the insult so none of Davis's team-mates could hear. "It was a little bit sly," Roma adds.
Casting his mind back to the incident, Davis says: "People realise that there are implications if they do say things, so if I took it further he could have had a ban but I don't think there was any need since he came forward with an apology."
Davis is sceptical of the authorities' approach to homophobia, believing they should do more to tackle the problem.
One of the more high profile groups, Football v Homophobia, did not receive any funding from the Football Association last year.
While Davis believes football is evolving, he thinks it will be "two to three" years before we see a gay player participating at the top level.
As his news filters through the game and into the wider world, Davis is unsure how he will be treated by opposition fans.
The media reaction has been unexpected but positive, he says, and he has plans to work with equality group Kick it Out, making time between football and waiting tables at the Point Cafe.
He hopes his story can play its part as football catches up with the rest of society.
"I would like there to be, at any level, somebody else," he concludes. "For somebody else to think 'I can do that, I'm brave and strong enough to do that'. It should be a catalyst."