Mark Warburton: From the City of London to Brentford manager
By Rob Stevens
BBC London & South East Sport
Last updated on .From the section Football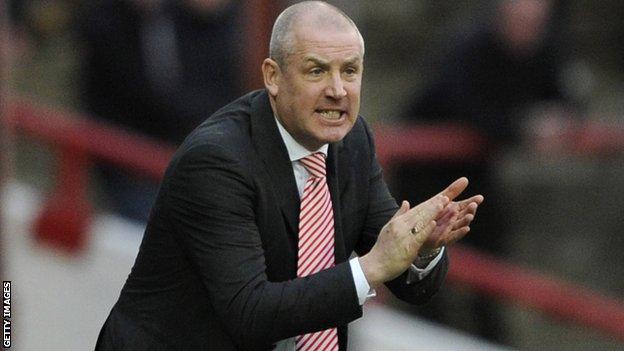 A career change in your 40s is a bold move, but leaving a job as a city trader to become a football coach is an unusual step.
For Mark Warburton, who left the City to join Watford's youth set-up, the move has eventually paid off.
Appointed as manager of Brentford last month, the 51-year old has won all six of his matches in charge and his side currently sit top of the League One table.
"It was a huge risk at the time and people thought I was crazy," Warburton told BBC London 94.9.
"Your wife thinks you have gone insane and so do your mates. For me I sit there sometimes and pinch myself.
"You get to a certain age and you think 'can I transfer my skills?' It was a 90% pay cut to go and join Watford and work my way through their academy.
"I had to give it a go. That's why it's not heroic in any way.
"It was a risk, a gamble, and I was convinced I could achieve something in football."
After beginning his career as a trainee at Leicester City, Warburton spent the bulk of his playing days with non-league Enfield, during which time he began working as a trader in the City of London.
He retained a passion for football which he indulged by coaching during spells working in Chicago, North Carolina and the Far East.
He met current Brentford owner Matthew Benham while working in the City and latterly coached at Clement Danes School in Watford alongside his job.
After attaining his coaching badges, he left his job in the City in the early 2000s and travelled around Europe, watching training sessions at Sporting Lisbon, Ajax, Valencia and Barcelona.
Warburton took a job in Watford's coaching set-up, working with the under-nines to under-16s, and eventually rose to become academy manager in 2006 before leaving the Hornets in February 2010.
A year later he was appointed first-team coach at Brentford, working alongside then-manager Nicky Forster, following the departure of Andy Scott.
He applied for the manager's job that summer but missed out to Uwe Rosler and subsequently took on the role of sporting director, with his responsibilities including player recruitment and overseeing the academy.
Away from Griffin Park, Warburton was the co-founder of the NextGen Series, a Champions League-style tournament for the academy teams of elite European sides.
But when Rosler left west London to join Wigan in December, Warburton was appointed Brentford boss and inherited the country's form team, with seven wins from eight league outings.
He has continued that trend, helping him to win the League One manager of the month award for December, and giving him the best start of any Brentford manager in the club's 125-year history.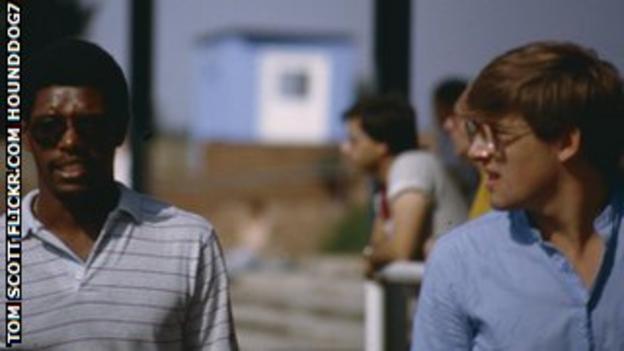 "I know the playing squad very well and am a familiar face on the training ground, not a stranger coming in," he said.
"That really helped the transition.
"The fact of the matter is what do the players need?
"They are in a good position, did really well last year and just missed out - by fractions as we all know.
"There wasn't massive surgery required to the squad here. For me it was a bit of self-belief.
"We have some real good young attacking talent, some hungry players and experience as well. I think it is a better blend this year.
"What I have tried to do is let them play and then if we lose the ball, do our jobs quickly, get the ball back and look to play again.
"Touch wood it has worked quite well so far."
The Bees, beaten play-off finalists last season, are looking to return to the second tier for the first time since 1992-93, which was their sole campaign outside the bottom two divisions since 1954.
Warburton has brought in former Sheffield United manager David Weir as his assistant, while former Liverpool academy boss Frank McParland has filled his previous role as sporting director.
Midfielder Sam Saunders has been a central part of Warburton's side since his appointment in December.
Mostly used as a substitute by Rosler, the 30-year-old has started four of Brentford's last six games. He has scored four goals so far under Warburton, form which helped him win the League One player of the month award for December.
"Mark has tweaked it slightly," Saunders told BBC London 94.9. "He likes to go a bit more of an attacking route and lets his front five go and create stuff.
"I love that and thrive on being creative. He has got his ways.
"Mark knew all the players, as with Uwe and Matthew Benham he helped bring them in.
"He knows the players inside out and that was Matthew's thinking of bringing him in. He must think this management lark is easy. He has been fantastic.
"A few eyebrows were raised when he got the job but so far it looks like a great acquisition."
For Warburton, there are many similarities between working in the City and in football.
"People don't see it; small teams, communication is important, highly competitive, good rewards if you do well, fairly short career span in certain cases," he said.
"The more I look at it the more I realise the points of similarity are too numerous to mention.
"There are long hours. In the City I was up at half four in the morning, in the office at quarter to six, getting home at half seven and phone calls through the night.
"You go and work in an academy and you are working seven days a week, 90 hours a week for one tenth of the pay."
The path to a possible promotion with Brentford is just beginning but for Warburton, his gamble to change careers is starting to pay off.
"I have to thank my family for letting me do it," he added. "I am not going to say anything other than I am thoroughly enjoying myself.
"Hopefully there is a long way to go still."
Interviews with Mark Warburton and Sam Saunders by BBC London 94.9's Phil Parry.