Premier League: Manager meltdown in the technical area
By Alistair Magowan
BBC Sport
Last updated on .From the section Football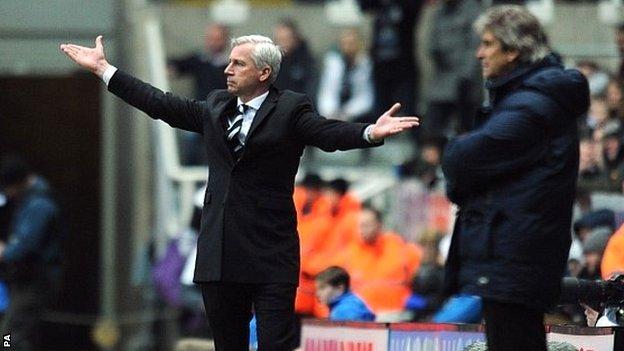 In a season when the Premier League has been hugely competitive, the technical area is where managers appear to be most exposed.
Simple white lines mark out the area but the effect is to enclose managers, trapping them like fighters in a boxing ring. And it changes them. Standards of behaviour deteriorate, with shouting, swearing, physicality and complaining commonplace.
Yards from the pitch, with little control over their players and a baying crowd behind them, it can turn matchday into a time they dread most.
That might sound far-fetched, but not according to psychologist Dr Mark Nesti, who has worked with 14 Premier League and Championship managers.
"No matter what they tell you, in their quiet moments some managers will admit that they don't have any control over something that is hugely pressurised and everything is at stake," said Nesti, from Liverpool's John Moores University.
So is it any wonder that occasionally we see flashpoints such as on Sunday when Newcastle manager Alan Pardew delivered some choice expletives in the direction of Manchester City counterpart Manuel Pellegrini?

"One manager in particular, who was very successful, was adamant that he detested only one part of the job and that was the 90 minutes of the match. He hated it with a passion," Nesti told BBC Sport.
"His simple but contrasting explanation was 'this is the only time in the week when I have hardly any control over what goes on. Most of the week I'd like to believe I have lots of control, but on those occasions I am as helpless as the rest of you'."
That helplessness might lead to further breaking points this season with more clubs in relegation and top-of-the-table battles.
Six points separate the bottom 11 clubs in the top flight, while sixth-placed Tottenham are eight points behind leaders Arsenal as the race for next season's Champions League - and its future riches - gathers momentum.
Only three Premier League managers have been in charge for more than two seasons. One of them - West Ham's Sam Allardyce - is this season's sole survivor from those that started the campaign with the current bottom five clubs.
With so much at stake, former QPR, Leeds and Sheffield United boss Neil Warnock said it is inevitable that a manager's temper sometimes boils over.
The Football Association has issued six disciplinary charges to Premier League clubs for offences in the technical area this term, up from two at the same stage in the past two seasons.
"Your whole life is geared towards those 90 minutes but when you see an injustice, it's amazing how you turn," said 65-year-old Warnock, who sparked a melee at Reading in 2007 after Royals coach Wally Downes took issue with some of his instructions.
"Yes, industrial language is used, but Pardew would have felt so bitter."
"It was a heat of the moment thing," Pardew said after the 2-0 defeat. "We just had words that we always have as managers, to a degree. I have apologised and he has accepted that."
Pardew was not disciplined for the incident but Newcastle have previous. They have been charged this season after what the manager called a "pathetic" touchline scrap during a 1-1 draw with Southampton.
There have been several cases in recent years, including the normally sanguine Arsenal manager Arsene Wenger being sent to the stands at Old Trafford for kicking a water bottle.
Former Manchester City boss Roberto Mancini had his fair share of altercations during his four years at Etihad Stadium.

The Italian clashed with Manchester United boss David Moyes while the Scot was at Everton, his predecessor at Old Trafford Sir Alex Ferguson and Aston Villa's Paul Lambert.
Up until 3 January there had been 20 charges against club officials in the top four divisions this season, up from only five at the same stage last season.
That may, however, have been a blip given that in the 2011-12 season there were 18 disciplinary cases.
The Premier League puts minor incidents, such as Pardew's row, in its match delegates' reports and says there has been no major decline in behaviour this season, from players or managers, adding that touchline conduct has improved since they stopped having TV replay monitors in the dugout in 2008.
But former Football Association chairman David Bernstein recently accused managers of setting a "terrible" example to players, earning a strong rebuke from the League Managers' Association (LMA).
Mike Riley, the general manager of Premier League officials, said: "The heightened competitiveness can increase the pressures on players and managers, as well as the scrutiny on referees.
"In the main, the behaviour of players and managers in recent years has been excellent, but it's important we continue to work with the Professional Footballers' Association and the LMA to ensure high standards are maintained."
Ex-Manchester City and Sunderland boss Peter Reid says he used to sit in the stands in the first half in an attempt to keep his distance but could not stop himself from being engrossed in the game once he took his place on the touchline. Allardyce had the same policy at former club Bolton.
And Reid, 57, says he sympathises with officials, particularly given the number of people who can now frequent the technical area.
"I feel sorry for the referees and especially the fourth officials," he told BBC Sport. "They get so much stick and they are not even refereeing. It's a thankless job.
"There used to be one substitute on the bench but now there are coaches, assistant managers, fitness coaches, seven subs, doctors and kit men. With both sets of support staff, it's like a whole team off the pitch.
"You do give respect to the opposition but you want to win and invariably managers are winners, invariably the staff are winners and sometimes it boils over. That is sport and life. It has always happened and it always will."
Reid says most managers can take what is said in the heat of the battle with a pinch of salt, and he does not think there is a problem with respect between bosses.
"I remember one time at Roker Park [Wenger and I] both said things and it carried on down the tunnel, but then a couple of games later we shared a glass of wine," said Reid.
"He comes across as Cool Hand Luke and he is a fantastic manager and coach, but even he loses it every now and then. We are all human.
"In the nature of the sport you are always going to have fall-outs - it's about how you get over those fall-outs. You can lose with class and you can win with class."