Swansea's Gwion Edwards to end St Johnstone loan
Last updated on .From the section Football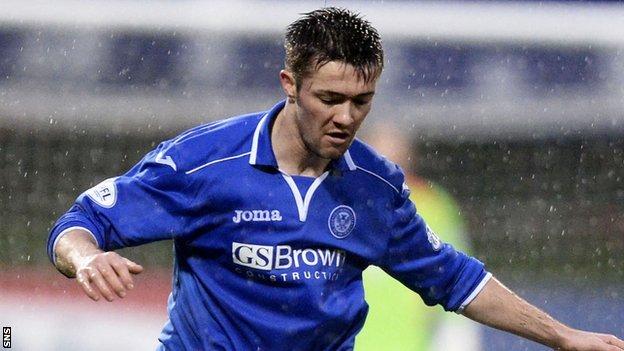 Swansea City midfielder Gwion Edwards has decided to end his loan spell with St Johnstone after manager Tommy Wright could not guarantee a first-team start.
The Wales Under-21 international has made 17 appearances for the Scottish Premiership side this season, but all but four of those have been as a sub.
"I think he's wanting more guarantees in terms of regular football and I can't give him that," said Wright.
"We were quite happy to keep him, but he's decided to go back to Swansea."
Edwards, who at McDiarmid Park in the second half of last season, had started against Dundee United and Motherwell during the festive period.
But Wright dropped the 20-year-old from his squad for the
"I just felt that he maybe just wasn't right today, so we left him out altogether," the Saints manager told BBC Scotland.
"I think he started the season quite well for us then had a period where he probably didn't do as well and wasn't in the team.
"Probably six weeks ago, as a manager, I probably didn't want to keep him and I explained that to him.
"But in the last six weeks he's really forced himself into the team, so it wasn't our decision.
"He's a great kid and I think he's done well for us while he's been here and we'd have liked to keep him."
Since the opening of the January transfer window, St Johnstone have signed former Bolton Wanderers striker Michael O'Halloran, released experienced midfielder David Robertson and farmed out forward Chris Kane to Dumbarton and Wright does not anticipate much further movement apart from loan signings.
"At the minute, unless people go out, we've got a few of the younger ones out and that frees up a bit of cash, but that'll just be younger players coming in probably to replace them," he said.
"There are a couple of things that we're working on, but at the minute we don't have a lot of money to spend."
Scotland Under-21 striker Stevie May has been the subject of this season.
"From our point of view, if we can hold on to Stevie May in particular, I'll be delighted at the end of the window," said the St Johnstone manager.
Defender Frazer Wright was dispossessed by Melvin De Leeuw in the lead up to Graham Carey's winner for County in the dying minutes in Dingwall.
"It was looking like it was going to be 0-0 and it was either going to be a mistake or a wonder goal that would decide it and it turns out it was a mistake," added Wright.
"I don't know whether Frazer felt he was comfortable and he's maybe lacked a bit of concentration and not seen it out and the boy's nicked it.
"He should have dealt with it and he knows that.
"Neither goalkeeper had a lot to do as defences were on top and that's the disappointing thing.
"We should have come away with at least a point, but we're not because of one mistake."