AFC Bournemouth: Lee Camp signs permanent deal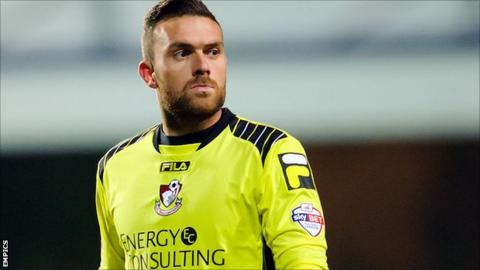 Bournemouth have signed goalkeeper Lee Camp on a permanent deal.
Camp became a free agent at midnight on New Year's Day following the end of his loan deal with the Cherries and contract with parent club West Brom.
The 29-year-old initially joined the Cherries on a one-month long loan at the end of October and has now signed a two-and-a-half-year contract.
"I am pleased everything has been sorted and I am delighted to have signed," Camp told the club website.
The Northern Ireland international played for Derby, QPR, Nottingham Forest and Norwich before joining West Brom on a free transfer in September 2013.
He has made 11 appearances since arriving at the Cherries.
"Discussions have been ongoing for the past couple of weeks but we have come to a pretty speedy conclusion in the end, so credit must go to the football club for how they have handled it," he said.
"Going into the Brighton game we weren't a million miles apart. If anything slowed it down over the Christmas period it was the fact we had three games in six days.
"I spoke to the manager at the hotel before the game on New Year's Eve and I was fairly confident we would all get to where we needed to get to, to make the deal happen.
"Now I have something sorted, I can concentrate on playing football."