Everton manager Roberto Martinez wants end to diving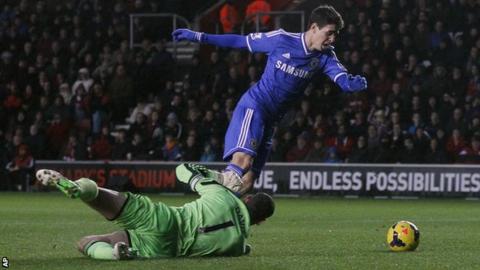 Everton manager Roberto Martinez believes everyone in football has a responsibility to help eradicate diving from the sport.
Following Fifa president Sepp Blatter's proposal for the use of a time penalty as a deterrent, Martinez says simulation has become a problem.
"It is our fault," said the Spaniard.
"It has been creeping in and has been happening for a couple of seasons. It is down to all of us to try to eradicate that."
Writing in his weekly column for Fifa, Blatter said cheating in football was "deeply irritating" and expressed frustration that "dives, simulation and play-acting to feign injury" caused long delays in matches.
Chelsea manager Jose Mourinho criticised one of his own players, Oscar, for diving in his side's victory at Southampton on Wednesday.
The Portuguese boss added on Friday that Blatter should tour the world to educate countries against the culture of diving.
"There are many ways to fight it," he said. "Fight with a yellow card, with wild critic from media and the fans and with penalty time. You have to persuade people it is an important issue in the game.
"If Mr Blatter is worried by that he should go around places where that becomes part of the culture and the last country for him must be England because it is a country where football is more pure and more clean in relation to these situations."
And influential Manchester United fanzine Red Issue has called on manager David Moyes to "sort out" players guilty of diving, citing examples by players Adnan Januzaj, Ashley Young, Danny Welbeck and Wayne Rooney.
"No-one minds MUFC losing - that's football. Losing while disgracing the club through cheating is another matter," it said.
The United boss was angry with Howard Webb after the referee failed to award a penalty for Hugo Lloris' challenge on Young in United's 2-1 defeat on Wednesday. But he does not think that the use of video technology should be broadened to help referees in those situations.
He said: "I wouldn't go down the route of video technology. I trust the referees to make the right decisions.
"They do make the wrong ones at times and I have not changed how I felt on Wednesday. I thought that was the wrong decision."
Ahead of Everton's FA Cup third round visit of Championship QPR on Saturday, Martinez said referees needed "sympathy" when it came to making important decisions.
"It is so difficult to make big calls at the moment because you have certain players that more often than not try to simulate and try to go to ground easily," said Martinez, who has played or managed in Britain since 1995.
"That makes the referee's decision much harder. We all need to accept and understand that referees, if they are not 100%, are not going to give the decisions."
He added that the British game now had players "trying to buy decisions".
"Unfortunately, it has been happening and, with a mixture of cultures in the last few seasons, we are going to be getting that side of the game," he said. "I don't think it is something we should allow to creep in."