Brian McDermott: Leeds United boss unsure of Max Gradel return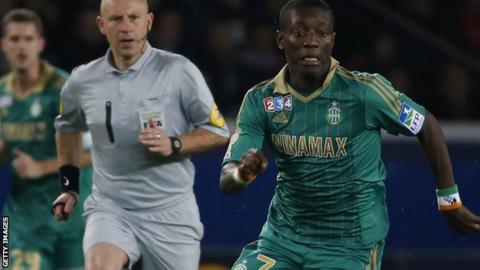 Leeds boss Brian McDermott says a deal for St Etienne's Max Gradel will only happen if it is right for the club.
The 26-year-old winger has been linked with a return to Elland Road in the January transfer window.
Gradel scored 25 goals in 77 league appearances for the Whites before moving to France in August 2011.
"He was very good here but that was over two years ago and you can't sign someone because they were a favourite before," said 52-year-old McDermott.
"I've done my homework on Max and I know how many games he's played and how many goals he's scored.
"Any deal for him would need to be right for now because it wouldn't be a cheap one."
McDermott's saw his side lose for the first time since 30 November when they went down 2-1 at Nottingham Forest on Sunday.
Despite the setback, the former Reading boss is pleased with the progress the club have made since his appointment in April.
"The previous manager (Neil Warnock) did a piece in the paper recently saying I only needed to put the icing on the cake with the squad he left. I'm not sure that's correct," McDermott told BBC Radio Leeds.
"We had work to do to keep the team in the league but everyone is going in the right direction now and we're seventh.
"No one said it would be an instant job here, and it certainly hasn't been, but I think we're doing alright."
Leeds, who were knocked out of the play-off places on goal difference by Ipswich after the loss to Forest, host Blackburn on New Year's Day.