Sheffield Wednesday: Mandaric to give Stuart Gray two more games
Last updated on .From the section Football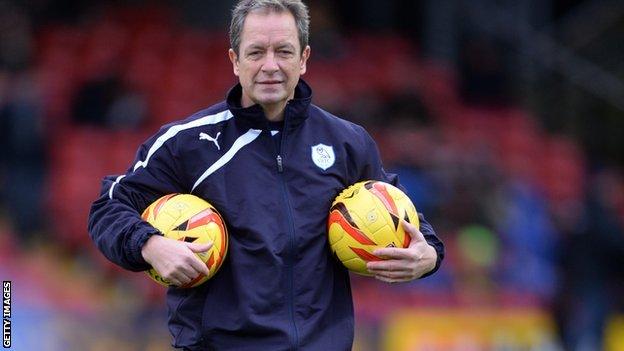 Sheffield Wednesday chairman Milan Mandaric will give caretaker Stuart Gray two more games with the team before making a decision over a long-term appointment.
"We'll give Stuart another two games and see how he gets on," Mandaric told BBC Radio Sheffield.
"He has done a pretty good job up to this point."
He added: "We have a lot of injuries and you have to give him credit for how he has done with the team.
"For now everyone needs to get behind him and the team because we want to do things the right way.
"If it's not going to be Stuart, then we need to make sure that the person who comes in can do better than him."
The Owls, who are two points from a position of safety in the Championship, host Blackpool on Wednesday before visiting Conference Premier side Macclesfield in the FA Cup on Saturday.
Mandaric says the club's immediate priority is extending the deals of defenders Glenn Loovens and Roger Johnson, midfielder Stephen McPhail and striker Connor Wickham.
Loovens and McPhail are on short-term contracts, while Johnson and Wickham are on loan from Wolves and Sunderland respectively.
"We need to secure the future of the players who I think we really need. Glenn and Roger are probably the best defenders in the league," he said.
"Hopefully we can keep Connor, and we are talking to Sunderland on a daily basis, but if we can't we will have to bring someone else in because we need a goalscorer."