Mauricio Pochettino: Southampton boss says 'nice' image costs team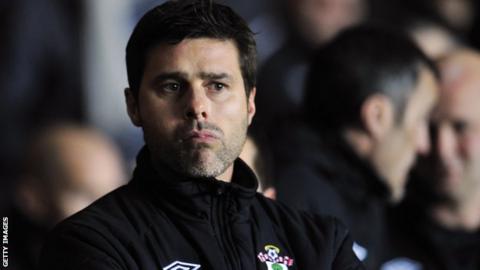 Southampton manager Mauricio Pochettino believes officials have treated his side unfairly this season because of their "young, friendly" image.
Pochettino was annoyed by referee Mark Clattenburg's failure to award his side a penalty for handball at Goodison Park during Sunday's 2-1 defeat by Everton.
And the Saints boss insisted the decision was not an isolated incident.
"We have been suffering all season long. Many injustices have gone against us," the Argentine said.
"We are very angry about the decision not to give a clear penalty, it was a clear penalty, everyone saw it.
"We are a young, friendly team, but we do not get the respect we deserve from the referees and it has happened one more time," the 41-year-old told BBC Radio Solent.
Pochettino insisted he was only seeking the "same treatment" as other clubs.
"We don't want to be judged by the young, handsome players that we have. We don't want to be judged in that sense," he said.
"We want to be judged in the same manner, being judged by the same rigour, in the same way that all other clubs are. We just want it to be fair, basically."
However, he was quick to reject the notion that his players needed to show a nastier streak and laughed off the old saying 'nice guys never win'.
"I said that we seem to be good people, not that we are," he added.