Ryan-Zico Black: The Guernsey midfielder who lit up the Maracana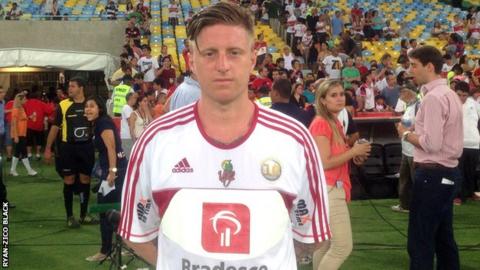 When Ryan-Zico Black's parents compromised on his unusual first name 32 years ago, they could never have imagined their son would one day share the Maracana pitch with his legendary Brazilian namesake.
But that is exactly what happened when Black, who plays for Ryman League South side Guernsey FC in the eighth tier of English football, ran out in front of 70,000 fans alongside the likes of Romario, Leonardo and Adriano for the annual Amigos do Zico (Friends of Zico) charity match at the famous Rio venue.
"It was a massive buzz," Black, who was Paul Gascoigne's first signing in his ill-fated spell as Kettering boss in 2005, told BBC South West Sport.
"It was just everything about it - the noise there is unbelievable and my legs were like jelly when I ran on the pitch, but after a bit I managed to focus on the game."
So how did a player who has turned out for sides including Lancaster City, Morecambe and Northwich Victoria in a nomadic non-league career find himself involved in such a high-profile occasion?
Ultimately it goes back to the decision of Black's Irish father Dessie to name him after his football idol. The "Ryan" part of his hyphenated name was agreed on after his mother Sue raised concerns that their newborn may grow up uninterested in football.
"My dad always loved Brazil and Brazilian football, and Zico was the main man at that time," said Black.
"With my name you'd want to be playing in the Premier League really. But it's not been a burden - to be honest I've enjoyed it. It's got me to the Maracana so I can't complain. I've always liked the name and it makes you stand out."
But it was his decision to write a book detailing the reality of life as a non-league footballer in 2005 which ended up bringing his tale to the attentions of a producer at Brazilian network GloboTV.
"I had a phone call a few months after the book came out and this TV guy was coming over to Chelsea to interview some of their Brazilian players," explained Black.
"He ended up coming to Guernsey and filming me for a few days. As part of it, they played a message that Zico had recorded for me and he signed a shirt for me and invited me to play in his charity match.
"I got quite a bit of stick for writing it but I was thinking that not many people have written about how difficult it is to make it at non-league level.
"I also thought something might come out of it and several years later it has. I'd never really written before and it's certainly not Shakespeare, but it is a different sort of story."
Black, who received financial help from Guernsey FC president Steve Dewsnip and his company in order to make the trip to Brazil, had been set to play in the game last year, only to break his leg the month before.
"When I was getting back to fitness, his [Zico's] son - who arranges the event - kept in touch and invited me out again," he said.
"Maybe it was fate because it's the 10th anniversary of the game and his father's 60th this year and possibly his last ever kick of a ball in a game, and it's at the Maracana. So I said 'yes, I'm up for that' - I didn't take too much persuading, to be honest."
Black's side lost the match 7-3 but the midfielder did manage to score, exchanging passes with Chelsea's Lucas Piazon, who is on loan at Dutch side Vitesse, before beating the goalkeeper at the near post.
"It has to be the highlight of my career - how can you top that really?" he said.
"When it came to me I thought I'd just smash it and I caught it really sweetly.
"I just laughed with the centre-half [Juan, the former Brazil, Roma and Bayer Leverkusen defender] and he gave me a high-five. It's pretty surreal now I'm back in Guernsey."
The original Zico - now coaching in Qatar - was on the opposing team and Black said the old maestro was still impressive with the ball at his feet, even at the age of 60.
"He's still got great skill and he's still absolute quality on the ball - he doesn't run too much any more but his feet were unbelievable," said Black.
"The pace was fairly slow, with a few tricks thrown in as you can imagine and the young lads doing all the running. I started in central midfield and then ended up at centre-back.
"It was crazy - you were left with a six-on-two sometimes, but it was just that type of match."
For Black, the trip to Rio was all a far cry from some of his experiences in non-league football - including a tumultuous time at Kettering, where England legend Gascoigne was one of four managers he played under in just one season.
"It was surreal," he explained. "It felt like the whole country was looking at the club and cameras were there all the time, so for a while it was like being at a massive club.
"I was on a professional contract and I thought this was my chance to be playing in the Football League.
"I played a couple of games for Gazza and did OK but I think they were expecting me to set the world on fire. Then it all exploded with him and [owner] Imraan Ladak and got really nasty.
"Since then I've played for so many clubs, including in Spain and Australia - my aim was always to play in the Football League and I got so close but it never quite happened for me.
"But even 99% of professionals don't get to experience what I did in playing at the Maracana. Maybe if things had worked out differently I'd have played a few league games, but I wouldn't have had the life experience I've had or this opportunity in Brazil - and playing at Guernsey FC has been amazing."
The Green Lions have had two straight promotions since being formed in 2011 to help the island's best footballers play regularly against sides from the UK and improve the overall standard of football there.
Black kept up his goalscoring run with a free-kick in Guernsey's 11-0 win over Crawley Down Gatwick on New Year's Day, just three days after his appearance at the Maracana. This time it was in front of 752 spectators at Footes Lane.
"I've loved playing here," he said. "When we can get our best side out we're as good as anyone in this league and there's no reason we can't keep progressing."