Sam Allardyce: West Ham boss says injuries will decide fate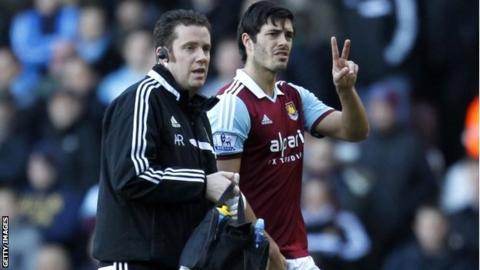 West Ham boss Sam Allardyce says his side's chances of staying the Premier League depend on how quickly their injured players return to action.
Centre-back James Tomkins became the latest player to join a casualty list half a dozen strong when he was injured in Saturday's 3-3 draw with West Brom.
West Ham are second from bottom midway though the season.
"The deciding factor will not be what signings we make, but how quickly our injured players come back," he said.
"If the players missing were fit, we'd have won the game."
Tomkins joins fellow centre-back James Collins on the sidelines after his colleague's injury against Arsenal on Boxing Day.
The Hammers are also without record signing Andy Carroll, midfielders Ravel Morrison and Stewart Downing, defender Winston Reid and striker Ricardo Vaz Te, as well as forward Mladen Petric, who has reportedly been released by the club.
"When you have six or seven players injured it's too much to cope with," Allardyce told BBC Sport.
West Ham led twice on Saturday, the second time coming when Kevin Nolan put them 3-2 up in the 67th minute, but Saido Berahino's equaliser two minutes later ensured the points were shared.
"It's very frustrating," Allardyce said. "There is a reason why, no centre-backs are fit - losing James Tomkins was a big blow for us. Our coping mechanism was playing four full-backs across the back four and that has cost us three points.
"They did their very best but got caught out. We didn't have enough aerial threat defending corners.
"We practice on the training ground how to hold onto leads, but the players forgot how to deal with West Brom's kick-off and stop them scoring. You can blame anxiety or fatigue, but you can't forget how to deal with them.
"That switch-off for the few seconds has made life difficult for us, West Brom looked down and out."
Two of West Ham's next three games are cup matches, at Nottingham Forest in the FA Cup third round and at Manchester City in the League Cup semi-final first leg, but Allardyce is focusing purely on the New Year's Day Premier League clash with fellow strugglers Fulham.
"Cups don't mean anything any more," the former Bolton manager said. "We've worked our way to the League Cup semi-finals. It doesn't matter, what does is our Premier League status and getting points. The cups are secondary in our plight, especially with our injuries."
Allardyce was not impressed by the attitude of some of the Hammers supporters towards the players.
"The fans have to understand, the players are trying their best. We have had two games in less than 48 hours - and the injury problems," he said.
"They pay their money, they can do what they want. You have to give them something to cheer about, we did. When there's a lull [the fans have to] help us get back into it, rather than wait for us to get you on the edge of your seat."
Allardyce's job is rumoured to be in doubt but midfielder Kevin Nolan, who also played under the manager at Bolton, said: "It's all about us sticking together as a club. We need to the fans to stick with us as well. I am sure we will be OK at the end of the season.
"Any of the six teams in trouble, if Sam was out of a job, they would hire him to keep them up. The chairmen have been brilliant with him and we'll be all right."