AFC Telford: Mike Phenix fights back from bowel condition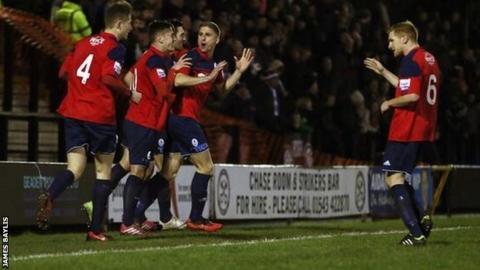 AFC Telford midfielder Mike Phenix hopes that he is now back in control of his life as a footballer after fighting the same bowel condition that plagues Manchester United's Darren Fletcher.
Phenix had a month out with ulcerative colitis, the inflammatory disease which kept Fletcher sidelined for a year.
"It's the same thing Darren Fletcher has," he told BBC Radio Shropshire.
"You don't have as much energy as you'd like. You have to try and keep it under control and just get on with life."
Phenix, 24, marked his return to action after a month off by scoring Telford's late equaliser in their 3-3 Boxing Day draw with Hednesford Town.
And, when the two sides meet again in the rematch at the Bucks Head on New Year's Day, Telford will once again be looking to go top of the Conference North table under boss Liam Watson for the first time.
But summer signing Phenix, who has suffered from the condition for more than two years now, is pleased simply to be back playing.
"I've had a it a couple of years," he admitted. "It got really bad again a month ago and I'm now back on steroids.
"If anything I was pushing myself too much as, deep down, I knew I wasn't properly fit.
"But I spoke to a few relatives and close mates and made a decision to call it a day for a few weeks.
"I can feel it getting better now, but it's a day-to-day thing.
"It's a case of trying to stop the inflammation.
"One side of my stomach swells up and I have to try stop to the bleeding inside.
"I'm on the injections for another four or five weeks then I'm on different tablets which would control it for the next 10 years."