Clint Dempsey: Fulham re-sign forward on two-month loan deal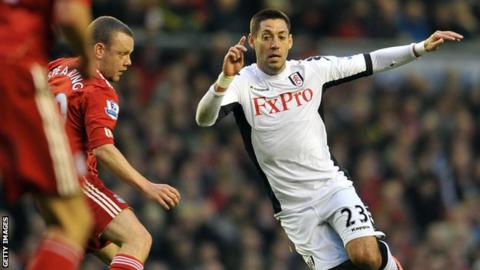 United States forward Clint Dempsey has rejoined Premier League club Fulham on a two-month loan deal from Major League Soccer side Seattle Sounders.
Dempsey, 30, left Craven Cottage to join Tottenham for £6m in 2012 and moved back to the US in August.
"It feels good to be back," he told the Fulham club website. "This has always felt like my home in Europe
"Going into a World Cup year, I want to get back to playing at the highest level and get back to top form."
Fulham are currently 19th in the Premier League, having won only one of their last 10 matches in all competitions.
Dempsey, who will not be eligible to play for Rene Meulensteen's side until the transfer window reopens at the start of January, added: "Some of my best years of football have come playing for this club.
"I want to help the team when they're not in the position they want to be in the table. I'm excited about being here and hopefully I can help out and make sure we stay in the Premier League.
"It was good for me to go to Spurs and play for a team that was trying to push for a Champions League spot.
"The opportunity came to go back to the United States and I knew that was where I wanted to end my career and raise my kids."
During five and a half seasons at Fulham, Dempsey scored 60 goals in 225 appearances and was voted their Player of the Season in 2010-11 and 2011-12 by fans, before joining Tottenham in August 2012.
A year later he returned to the USA to join Seattle on a four-year contract, rejoining the league where he had begun his career with New England Revolution in 2004.
Fulham have away games against Norwich on Boxing Day and Hull on 28 December, before hosting West Ham on 1 January.
Dempsey last played a competitive match on 7 November and will return to Seattle for the start of the new MLS season, which begins on 8 March.