Celtic: Scott Brown targets unbeaten Premiership run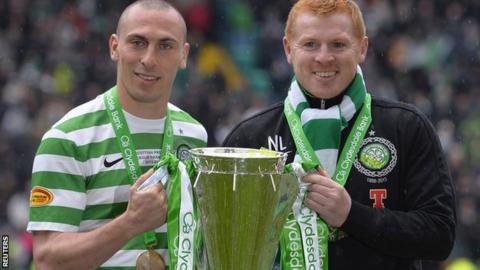 Celtic captain Scott Brown aims to remain unbeaten in the league this season, although manager Neil Lennon is cooling talk of such a feat.
"It's huge for us to go as many games as possible unbeaten," said Brown.
"We want to go the whole season without getting beaten. We want as many points on the board as possible."
But Lennon warned: "I wouldn't say it was impossible but it's a very difficult thing to do, so I wouldn't get too ahead of ourselves."
Defending champions Celtic lead the Premiership by 10 points, with a game in hand.
Lennon's side lost seven league matches last term as they won the title by a 16-point margin.
"It's not added pressure, it's a nice pressure," said Lennon, when asked about the unbeaten run.
"It's something people are talking about very prematurely. We're 16 games into a 38-game campaign. We're not even at halfway."
Celtic have tasted defeat in the League Cup, losing at home to Championship strugglers Morton. They also lost five of their six matches in a disappointing Champions League group campaign.
"I've got to remind the players that we are still a long way from where we want to be," explained Lennon.
"The Champions League showed that. We had a brilliant year last year, not so good this time, but we have set the bar high and I want to keep pushing the players to be a consistent Champions League team.
"We obviously want to keep the unbeaten run going. What we want to do is come out of the festive period with an increased gap at the top and give ourselves a bit of leeway going into the break in January."