Ross County will show their top flight quality again soon

By Rob Maclean
BBC Scotland
Last updated on .From the section Ross County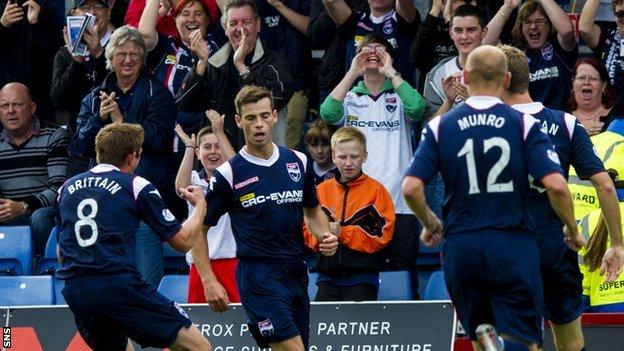 Ross County have a place in my heart. I'm hoping they'll still have a place in the Scottish Premiership next season.
And I think they will. I don't agree with the doom and gloom merchants who have already installed the Dingwall team in the relegation play-off place.
Even if they did finish in second bottom spot, County would have to be strongly fancied to avoid the drop.
But I don't reckon it's going to come to that end-of-season nerve-jangler.
It's been a difficult campaign for Derek Adams' side and that's really not too surprising.
They're victims of their own success. To be knocking on the door of European qualification in their first season of top flight football was just crazy.
And key players, having made their name in the Highlands, moved on.
Paul Lawson and Iain Vigurs signed for Motherwell last summer; it was time up in Dingwall during the course of this season for ex-captain Grant Munro, and Ivan Sproule left, too.
The departure of Lawson and Vigurs signalled the further break-up, over the last three-and-a-half years, of the famous Scottish Cup Final team.
Only three of the 16 who were stripped for action on that historic Hampden day in May 2010 are still with the club.
It's when you reflect on that standout moment in Ross County's 84-year history - that football fairy tale - that you realise how wrong it is to be piling too much pressure on a small-town club which hasn't so much punched above its weight as delivered a spectacular series of knockout blows.
They were in the Highland League when I went to watch them at Victoria Park as an Easter Ross youngster and it's only in the last 20 years that they've become part of the senior set-up.
In addition to beating Hibs and Celtic on the way to their 'big' cup final appearance, County have played in four Challenge Cup finals and won three promotions to reach Scottish football's top level.
It's a ridiculous roll of honour for a team based in a town with a population of only 5,000.
Success has been fuelled by big ambition.
Chairman Roy MacGregor has it in bucket-loads. So does 38-year-old manager Adams and his director of football father George.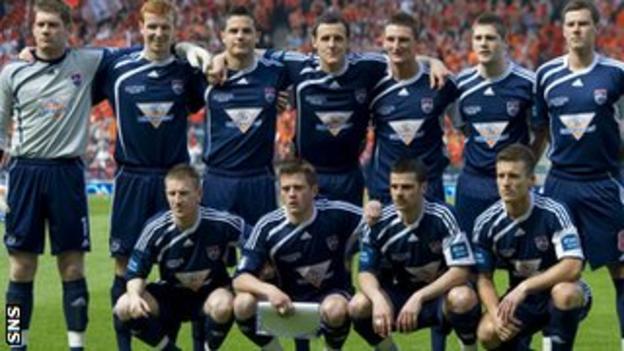 They don't always sing from the same songsheet but they've become a powerful combination and, for Staggies fans, they've totally transformed life in this northern town.
And maybe now's a good time for all of us to remember where this club's come from and how quick its rise to football prominence has been.
Reaching these dizzy heights has been achieved without breaking the bank. County have learned from previous financial mistakes and run a tight ship these days.
I don't reckon there's a player on the books whose weekly wage strays into four figures. Neither prudence nor geography are any great help to recruitment.
The heather hasn't been set alight so far by Dingwall's Dutch invasion, although County were already a team in transition before the arrival of Melvin De Leeuw, Kevin Luckassen, Marc Klok and Darren Maatsen.
And their integration probably hasn't been helped with some of the more established players performing below their best.
There's still time, though, for it all to come together. Especially if January transfer window business has the same impact as it did a year ago.
County, only three points better off at that stage than they are now, took off around this time last season en route to a top six finish.
A repeat of last season's phenomenal achievement would seem unlikely at the moment but that's not the priority.
Survival is the number one target and the chance to consolidate County's position in the Premiership during this rebuilding process.
That shouldn't be beyond them, I don't think. This is no time to be pressing the panic button. Keep the faith would be my message.