Rangers: Ally McCoist stands by decision over AGM vote
Last updated on .From the section Football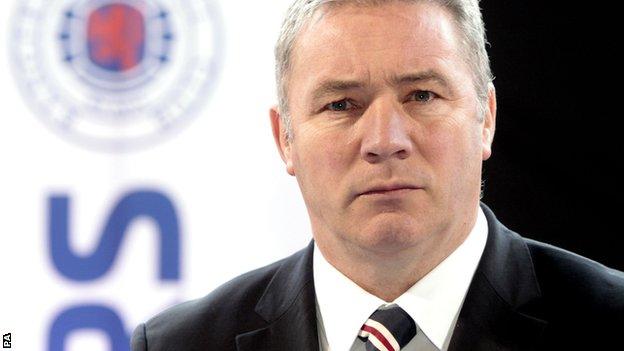 Rangers manager Ally McCoist maintains he made the "right decision" to gift his AGM proxy vote to a supporters' club.
Challengers Paul Murray, Malcolm Murray, Alex Wilson and Scott Murdoch failed to secure enough votes.
"I just felt at that particular time that I was in a little bit of a no-win situation," said McCoist.
The Rangers boss opted to give his vote to the Calderwood Rangers Supporters Club in his hometown of East Kilbride.
"I was sort of compromised all over the place," said the Rangers boss.
"So, rightly or wrongly - and I've been criticised for it in a lot of quarters, which I can understand - I was very happy and safe in the knowledge that the people I gave the proxy to would 100 per cent vote in a way they thought was best for our football club.
"I didn't know how they were going to vote and I still don't know how they voted.
"But I'm happy with the fact that I gave it to people who really care about our club. That was my reason for doing it."
Asked if he was confident he had not damaged his relationship with any board members as a result, McCoist said: "I can't answer that.
"All I can tell you is that I still feel to this day that I made the right decision.
"I let Graham know this was going to be the case and he did understand it. I explained to him that I was giving it to people who care more about our football club than anybody I know.
"I was happy that they would make a decision that they felt was right and I could live with that. Graham understood that view."
Wallace told shareholders that operating costs at the League One club were too high, even if competing in the top flight, and called for measures to be introduced to reduce spending.
McCoist said he was not made aware of plans to announce the need for cuts by Wallace prior to the AGM.
"I wasn't aware of that at all. Graham made the statement and it was news to me, as it was to a lot of the people listening to it," said McCoist.
"That said, we haven't been informed where, and if and when, these cuts will take place. It would be wrong of me to comment until they happen.
"It doesn't necessarily give me concern because I haven't sat down with Graham and discussed it fully.
"We've had a couple of brief chats post-AGM and our assessment, and certainly my assessment of the whole situation, is that Graham is going to take an overall view of the finances of the entire club, which is the right thing to do.
"Then he and I will sit down and look at the football side of the club. That will determine what happens in the coming months.
"I'm the same as every manager, I would rather have players in than players leaving. That's no surprise."
Rangers host Stranraer on Boxing Day and McCoist said he was "pleased" he could now focus on matters on the pitch.