Malky Mackay: Cardiff boss is spared sack for now
By Rob Phillips and David Ornstein
BBC Sport
Last updated on .From the section Football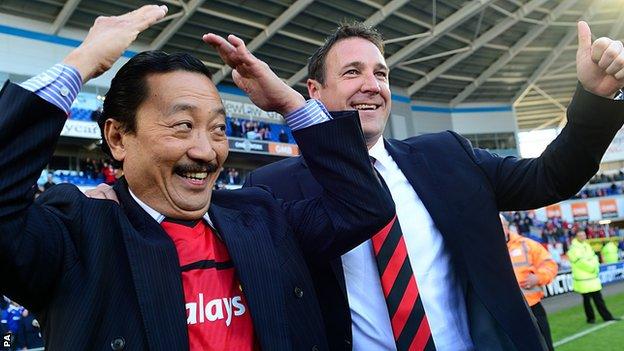 Cardiff owner Vincent Tan has lifted his threat to sack manager Malky Mackay and the pair will hold talks in an attempt to salvage their relationship.
Tan sent Mackay an email last Monday telling him to resign or be sacked.
But with the 41-year-old Scot refusing to walk away voluntarily, Tan is now prepared for a possible reconciliation.
When asked if the ultimatum had been withdrawn, Cardiff chairman Mehmet Dalman said: "For the time being, yes. The crisis for the time being is over."
He added that Mackay is "in charge for the foreseeable future and will be until something else happens".
He also issued a message to Cardiff supporters, urging them not to protest against Tan at Thursday's home game with Southampton.
Tan flew from Malaysia to London on Friday with the intention of dismissing Mackay, who has been in charge of the Bluebirds since June 2011, but the 61-year-old businessman agreed to a final meeting with Dalman to discuss the situation.
Those talks went on into the early hours of Saturday.
Tan was still undecided about Mackay's future following the 3-1 Premier League defeat at Liverpool later that day, during which the Cardiff fans expressed support for the manager and disapproval of the owner.
But Tan has now chosen to delay any judgment until further negotiations have taken place.
"My definition of diplomacy is to create space for dialogue," said Dalman.
"I have spoken to Vincent Tan and he has agreed I can go into bat to try to bring a solution to this situation.
"The important thing is that we try to find a way through this predicament."
In response to Sunday's announcement, the Cardiff City Supporters Trust said it was pleased Mackay was staying.
"After the turmoil of the last week, the club needs stability," said Trust chairman Tim Hartley.
"Mr Tan should let the manager of the team get on with the job of keeping Cardiff City in the Premier League.
"I'm sure the strength of feeling shown by fans before and at the Liverpool game sent a clear message to him, as did the outspoken comments of many other managers and commentators.
"What this debacle has illustrated once again is that Mr Tan must engage in regular dialogue with supporter groups and fans generally.
"We will be making that point strongly when we meet Mr Tan on Saturday before the Sunderland game."
The Trust also urged Tan to "build bridges with supporters" by ditching the club's red kit, which he introduced, and returning to its traditional blue "at the earliest opportunity".
Mackay guided Cardiff to promotion last season and the Welsh club currently sit 15th in the table, four points above the relegation zone.
But Tan has been critical of results and the team's style of play, as well as hitting out at Mackay for his signings.
Dalman thinks the two can patch up their differences.
"There is goodwill on Vincent's side," he said. "I've not had a chance to talk to Malky just yet, but I will obviously do that as well.
"We need to have further dialogue to see if we can get through this together for the good of the club, which is the most important thing.
"We managed to create space for everyone to work together back in October and we have to see if we can do that again in order to move forward.
"At least we have a platform for dialogue, which gives us an opportunity to try to work our way through this.
"If we wish to work towards a reconciliation, Vincent Tan has offered us that opportunity to move towards that.
"If it works, it works. If it doesn't, it doesn't. But at least I, as a responsible person and chairman of this football club, have tried my best."
Dalman insisted he was not taking sides, adding he was working for the "good of the club".
He added: "Let's see if we can fix it. We can't keep having the club under a cloud, so this is it. We managed to get two or three months leeway last time and we need to create something similar again.
"I'm not putting a timescale upon this, but we have to try.
"If we want to find a way forward, we now have a platform, a base, from which to work. This is a crucial time in the Premier League. Every point counts and we are better off going for stability.
"So if we want to give the club the best chance of being in the Premier League next season, the best way is to fix the problem and seek stability.
"In order to do that, it's best we have an attempt at dialogue."
Dalman revealed that Tan would be in London for a while so any talks with Mackay would be face to face.
When asked if he had a replacement for Mackay lined up, Dalman replied: "I can tell you categorically that I, as chairman, have not initiated any dialogue with anybody else.
"Can we go out and get another manager? Of course we can. But I've read and heard so much nonsense about us speaking to four different candidates and that sort of thing. It's simply not true.
"What I do have is Vincent's word that if we don't succeed with our dialogue with Malky, I and the board will be handed the responsibility of going out and getting the manager we think is best to take the club forward."