Premier League: What we learned from the weekend
Last updated on .From the section Football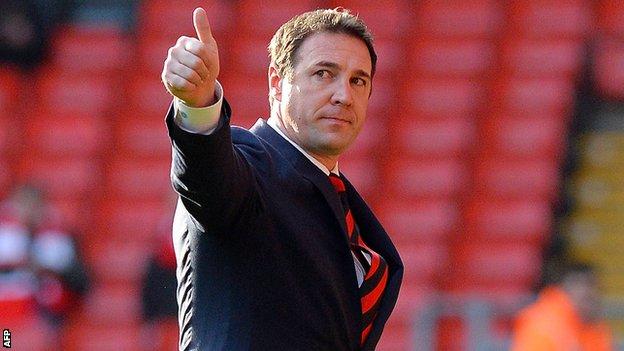 Meddling owners, in-form strikers and managerial speculation dominated another Premier League weekend packed full of intrigue and excitement.
At Anfield, the future of Cardiff manager was much discussed off the pitch. On it, Liverpool went top as Luis Suarez continued his remarkable scoring spree, a day after signing a new contract.
Speculation also surrounded the identity of the next Tottenham manager, as caretaker Tim Sherwood won his first league match in charge while club legend Glenn Hoddle made his pitch to make a return to White Hart Lane.
Mackay is staying put... For now
What happened?
Months of speculation about Malky Mackay's future as Cardiff manager appeared to be reaching a conclusion when owner Vincent Tan sent Mackay an email last Monday telling him to resign or be sacked.
The 41-year-old refused to walk, and received the vociferous backing of the travelling Cardiff support throughout the 3-1 loss at Liverpool on Saturday.
After Mackay then confirmed he would not resign, on Sunday it was revealed Tan had lifted his threat to dismiss him and the pair will hold talks in an attempt to salvage their relationship.
What they said:
Cardiff chairman Mehmet Dalman: "For the time being the crisis is over."
Malky Mackay on BBC Radio Wales: "100% I won't be resigning. I've got a steely determination and a passion for my job and for what I do and have done for the last two-and-a-half years.
Lifelong Cardiff fan Lord Kinnock on BBC Radio 5 live's Sportsweek:"Not only has his [Tan's] conduct been unfair to Malky, unfair to the team and unfair to the fans most of all, it doesn't seem to even make much business sense."
Former Scotland winger Pat Nevin on BBC Radio 5 live: "It has been extraordinary to see the way Malky Mackay has reacted. He stayed out on the pitch even when all the players went back in. He could have been soaking up the atmosphere, or maybe he wanted to stay away from Vincent Tan? It was very strange."
Daily Mail northern football correspondent Ian Ladyman on MOTD2 Extra: "Cardiff owner Vincent Tan knows all his methods have failed. He will sack Malky Mackay at some point."
Reaction from #bbcfootball on BBC live text commentary:
Dex Fitzgerald: Whatever you think of Cardiff City, Malky Mackay is a class act.
Sam Levey: Does Vincent Tan really think a 'big name manager' is going to join Cardiff after the way he's dealing with Malky Mackay?
Rian Hoskins: Vincent Tan is complaining about signings but the only big transfer that hasn't worked for Cardiff is Andreas Cornelius, who has had injuries.
Soaring Suarez sends Liverpool top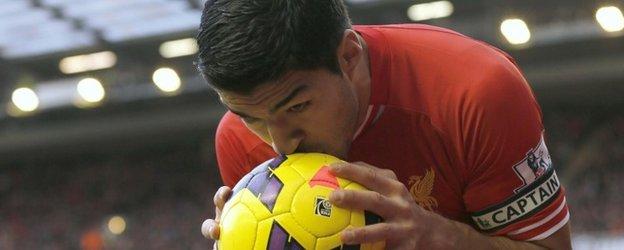 What happened? A day after signing a new four-and-a-half-year contract, Liverpool striker Luis Suarez scores twice in a 3-1 win at Cardiff to send his side top of the Premier League table.
His two-goal haul continued a remarkable campaign for the Uruguayan, which has seen him in record-breaking scoring form despite missing the opening six games as he completed a suspension for biting Chelsea's Branislav Ivanovic in April.
Suarez stats:
Suarez has now scored at least twice in five Premier League games at Anfield in a row.

He has 19 goals in 13 games in all competitions this season.

He has scored 10 goals in December in the Premier League; more than any player has ever managed in a single month.
What they said:
Liverpool manager Brendan Rodgers on BBC Match of the Day: "Luis is really happy at the moment, and his performance again was outstanding, he is a remarkable man and player."
Cardiff manager Malky Mackay on BBC Match of the Day: "Luis Suarez showed why he is just about the best player in the world right now."
BBC pundit Robbie Savage on MOTD2 Extra: "I would say Luis Suarez is the second best player in the world with Lionel Messi currently injured. But if Liverpool do not get in the Champions League, will the second or third best player in the world want to play in the Europa League?"
Former Scotland winger Pat Nevin on BBC Radio 5 live: "I have been so impressed by Luis Suarez on many occasions this season, but that was his most impressive moment for me. He had a 90% chance of scoring himself, but he knew Raheem Sterling had a 100% chance of scoring if he passed to him."
BBC Match of the Day presenter Gary Lineker: "Always the same when a player signs a new contract. They go completely off the boil. Only two goals for Luis Suarez in the first half."
Reaction from #bbcfootball on BBC live text commentary:
Richard Powell: Running out of superlatives for Luis Suarez. Scorer, creator, tormentor. Priceless.
Morelli Junior: Suarez is the best player in the world right now by a country mile.
Ryan Kerr: Behave Suarez! As a Man United fan it pains me to say this... But Suarez is just too good. On fire recently.
Sherwood wants the Spurs job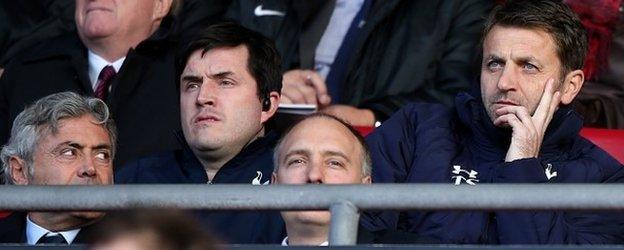 What happened? Tottenham's caretaker boss started his side's 3-2 win at Southampton in the stands at St Mary's. But minutes after Spurs fell behind, the 44-year-old bolted down the steps to the dug-out to get his message across. "I could not sit still, I had to come down," he said. "The message was not getting across."
His intervention appeared to make a difference with Emmanuel Adebayor, making his first league start of the season, levelling for the visitors.
An attacking approach and some inspired substitutions later, Sherwood lead his side to a valuable three points, leaving Tottenham only six points off the top of the table.
What they said:
Tim Sherwood: "I need to speak to the chairman [Daniel Levy] about how they want to take the club forward. That'll happen sooner rather than later I hope, as these guys need a manager. I don't want it for 10 minutes, I want it for the long term or not at all."
MOTD presenter Gary Lineker: "Great to see Tim Sherwood is bold enough to go for positive attacking football."
Reaction from #bbcfootball on BBC live text commentary:
David Whale: Nabil Bentaleb looking impressive - one to watch for the future? Integral to that second goal, give Tim Sherwood the job.
Tom Minton: What a team selection from Sherwood. Trying something different, something Andre Villas-Boas really should've done.
...So does Hoddle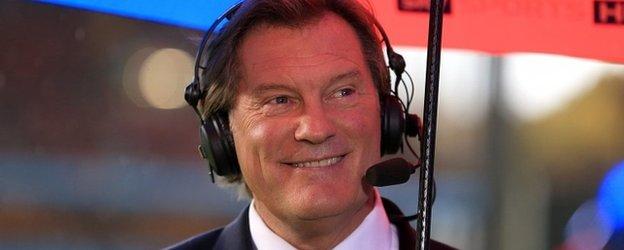 What happened? "Everyone from Frank de Boer to Frank Spencer has been linked with the vacant job at White Hart Lane," said BBC Sport's Chris Bevan in Sunday's live text commentary.
Former player and boss Glenn Hoddle confirmed his interest in the position, insisting "I would want to go back. It's in my blood and my bones."
The BBC football gossip column had Netherlands boss Louis van Gaal at the top of Tottenham's wanted list, while technical director Franco Baldini's resignation was reportedly rejected.
What they said:
BBC pundit Robbie Savage on MOTD2 Extra: "I am not sure Tim Sherwood has enough experience to manager Tottenham permanently. I would give Glenn Hoddle the job, I think he is fantastic."
Glenn Hoddle on Sky Sports: "I would want to go back. It's in my blood and my bones. Even if they felt they wanted me to go to the end of the season and wanted something else long term, I would be prepared to do that for the sake of the football club."
Reaction from #bbcfootball on BBC live text commentary:
Will Dinsdale: No to Hoddle. Look at Kenny Dalglish when he came back. The game has changed too much and he's been away too long.
John Ballard: Don't understand all this clamour for Hoddle to return to Spurs. Great player but his managerial track-record is abysmal.
Ross: Why all the obsession with fans wanting ex-Tottenham players as managers? Just because they they were great players doesn't mean they be a great managers. No to Sherwood, Jurgen Klinsmann and Hoddle - either Van Gaal or De Boer for me!