Marouane Fellaini: Man Utd midfielder faces six-week absence
Last updated on .From the section Football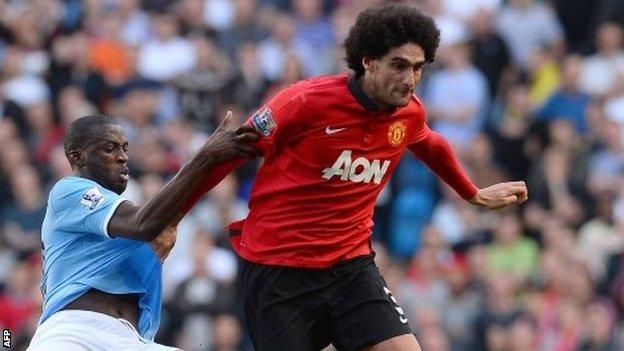 Manchester United midfielder Marouane Fellaini faces up to six weeks out following surgery on his wrist
Fellaini, 26, has been struggling to recover from a back injury so United decided he should have the wrist operation they had been putting off.
"We thought his back would be OK after 10 days but it wasn't getting any better," said United boss David Moyes prior to Thursday's game against Hull.
"We made a decision to get his wrist operated on - get it done quickly."
He added: "We think it will be six weeks but there's a chance it will be shorter than that."
Fellaini had been playing on with a wrist problem suffered against Shakhtar Donetsk in a Champions League group game in October.
But then he was sidelined with a back injury sustained during a defeat by former club Everton on 4 December.
"His back problem was just going to take time," said Moyes, who signed Fellaini for £27.5m at the start of September.
"The back problem was a muscle injury in his back which wasn't healing so it was maybe going to take longer than expected. That's why we decided to get the wrist done.
"It is unlucky. He doesn't feel 100% fit because of the wrist, he is finding it difficult. We thought the best idea was to move on and give his back plenty of chance to get well as well."