Minister gives go-ahead to Windsor Park redevelopment
Last updated on .From the section Football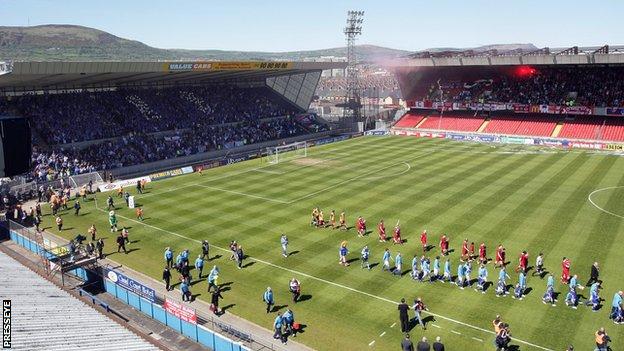 Sports Minister Carál Ní Chuilín has given the green light to a £31m redevelopment of Windsor Park.
The minster has approved a funding agreement with the Irish Football Association for the revamp, which is scheduled to start early next year.
"This signals a new chapter in the history of Windsor Park," she said.
"Football fans at long last can look forward to a brighter future in the modernised, family friendly stadium they deserve."
The funding agreement allows the IFA to appoint their main contractor for the redevelopment, with the capacity set to rise to £18,000.
"This is a tremendous boost for the local football family which will see two new stands and two refurbished stands," added Ms Ni Chuilin.
"This development is not just about sport. It is about integrating social contracts into all our processes.
"Construction work will get underway in 2014 and with that will come benefits for the wider community in terms of employment, particularly for the long term unemployed and for young people who get much needed work experience and apprenticeships in the building industry.
"I look forward to visiting the re-vamped Windsor Park in 2016."
There were doubts over the redevelopment in September when the minister indicated that "governance" issues at the IFA could delay funding for the project.
These centred on David Martin's return to the role of IFA deputy president.
However, the minister said later in the month that she was committed to the redevelopment going ahead and that she was "confident" the governance issues would be resolved.
"The Irish FA is delighted to be given approval by Department of Culture, Arts and Leisure (DCAL) for the £31million funding for the redevelopment of the National Football Stadium," the IFA said on Friday.
"We are now in a position to appoint the contractor for the design and build of the National Football Stadium."