Death of Salomon Begondo puts Indonesia under fresh scrutiny
By Richard Padula
BBC World Service Sport
Last updated on .From the section Football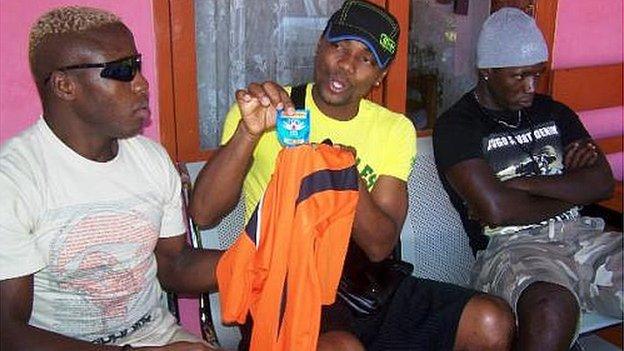 On 29 November, Cameroon footballer Salomon Begondo died in Indonesia. He was just 27.
His body still lies in the morgue at the Regional General Hospital in Tangerang, waiting to be taken home by his family.
This much we know, but far more remains a mystery.
Begondo used to play for the Indonesian First Division side Persipro Bond-U.
In May, he and two African team-mates made headlines when they were found begging in the streets.
Persipro Bond-U had not paid them for almost the entire season and Begondo had only received 20% of his signing-on fee.
According to the global players' union Fifpro, Indonesian football has reached crisis point.
"To put it mildly, we cannot think of any other country where the players face such a difficult situation," said Fifpro's Brendan Schwab.
"They can go as much as 10 months without being paid. On the salaries we're dealing with, players are only a month or two away from being in a situation of desperate poverty.
"We hear about the well-paid footballers of the world but in Indonesia we have a crisis. This is a tragic situation. Football shouldn't be a matter of life and death, it should be sport. It should be based on sound contractual principles."
Fabio Oliviera, a former assistant of the Indonesian national team, and Matias Ibo, the team's former physiotherapist, also went months without being paid.
Speaking to the BBC's World Football programme, Oliviera explained how desperate things have got in the country.
"The situation is very bad because some teams have no sponsors, they have nothing," he said. "It really is a jungle to come play football here."
Ibo told World Football how Begonda died.
"He was playing football, not with his club, but in an unofficial match between villages arranged by local people," said Ibo.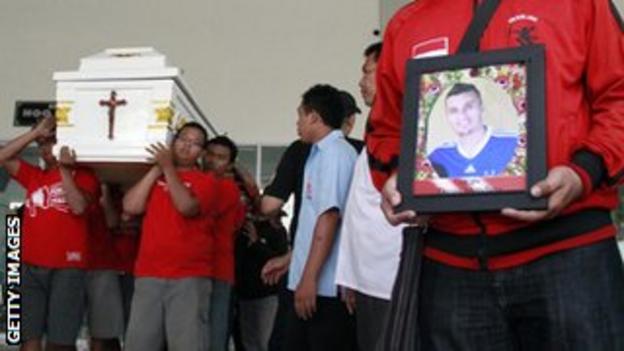 "They get paid just 50 bucks or 100 dollars per game, so he's been doing that a couple of times just to survive, because he hasn't been paid and getting a salary.
"After the game, he was ill and didn't feel well. He couldn't go to the hospital because he didn't have the money or the insurance to cover it.
"Later on, his friends decided he needed to go to the hospital because of the chest pains, the stomach ache and everything. They decided to help him out and took him to hospital, but it was too late. He passed away."
There are shocking similarities with the death last year of Paraguayan footballer Diego Mendieta. He also died in Indonesia because he could not afford hospital fees following months without pay.
Ibo fears that there could be more deaths, too.
"I sincerely hope we will not see this anymore because it's just such a tragic situation," he said.
"If the situation continues like this, in which players don't get paid and they have trouble to get food and they have to beg on the streets, I think it might happen again. But I sincerely hope that it won't."
World Football contacted Persipro Bond-U and the Indonesian Football Federation but both refused to comment.