Rangers need to address cost base, says Graham Wallace
Last updated on .From the section Rangers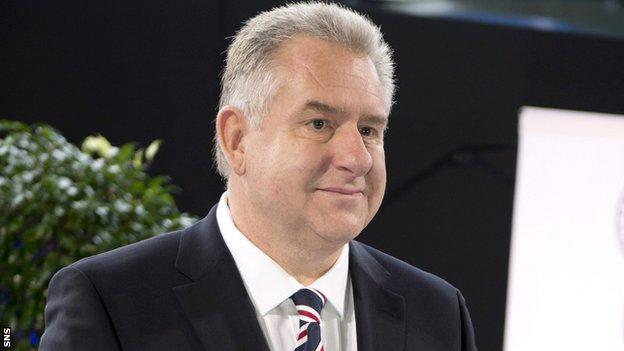 Chief executive Graham Wallace believes the re-elected Rangers board faces "a significant number of challenges" but now has a "platform of stability".
after Thursday's annual general meeting.
And he now intends to review the club's business operations.
"We've got a cost-base that is out of alignment with our ability to generate income," Wallace told the Rangers website.
"What we needed was the platform of stability for the club to allow us to engage with leading international organisations who want to be associated with club of this stature.
"We've now got the platform of stability to allow us to have that engagement, so I'm absolutely delighted."
Former Rangers chairman Malcolm Murray, former director Paul Murray, Alex Wilson and Scott Murdoch were unsuccessful in their attempts to join the board.
Earlier this year, Rangers reported a £14m operating loss for the 13 months to June.
And finance director Brian Stockbridge, who was booed by angry shareholders at the AGM, defended the cost of setting up the IPO share issue, which raised £22m a year ago.
Wallace highlighted the need to engage with supporters and give them "an effective voice"
"The fans are the club," he said. "I feel very confident that we can take the club forward and we can build and grow.
"I think today's AGM will go down in club history as a defining moment. There have been a lot of arguments, a lot of debate over recent weeks and months with various competing entities.
"The shareholders have had the opportunity to consider all of those arguments and have delivered a resounding vote of confidence in the board and myself as a chief executive, which I'm delighted for."
Wallace, though, has no plans to meet former Rangers director Dave King, the South Africa-based businessman who had talks with the previous chief executive, Craig Mather about investing in the club.
"I have never met Dave King," he said. "I am aware, obviously, of his history with the club.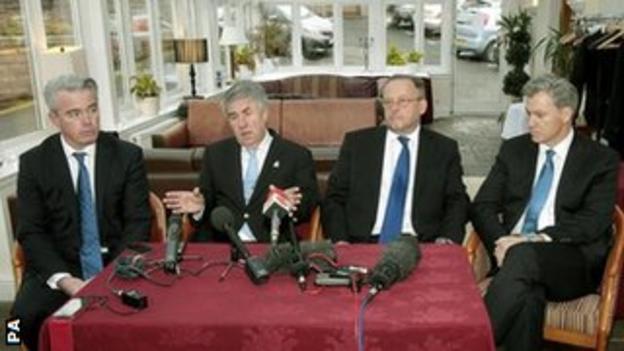 "What we will do as part of the business is develop a structured business plan we can look at over the next three to five years, from that we will identify the levels of investments that we need.
"We will have conversations with our existing shareholders and, indeed, other potential investors. That may or may not include Dave King.
"As I say, I haven't met the gentleman and have no immediate plans to do so."
Wallace, however, also emphasised the importance of youth development - one area he believes manager Ally McCoist also sees as key.
"We've got the semblance of a very good working relationship," he said. "We share a lot of similar ideas."
Meanwhile, Paul Murray has repeated his view that Stockbridge's position is "completely untenable".
"Putting aside Rangers and the history of this whole thing, if this was any other organisation, the financial mismanagement in the last 12 to 15 months which has been there for all to see is obviously unacceptable," said the former Rangers director.
"Probably the most surprising revelation was that Graham Wallace said that the cost base would have to come down going forward and, indeed, they would be spending less money in the Premiership than they were in the third tier.
"So you start to wonder about how the team might look in a couple of years' time."