Cardiff City: Malky Mackay told to quit or be sacked by Vincent Tan
By David Ornstein
BBC Sport
Last updated on .From the section Football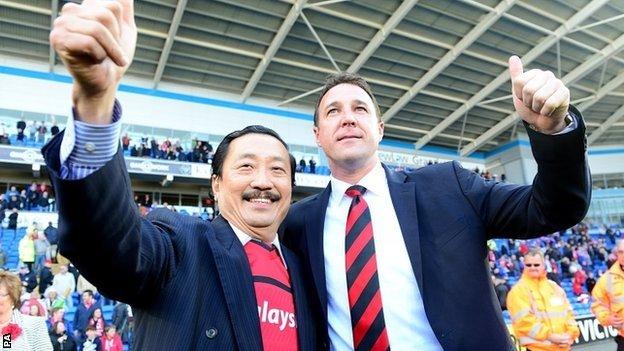 Cardiff City manager Malky Mackay has been told by owner Vincent Tan to resign or he will be sacked.
In a letter emailed to Mackay on Monday, it is understood Tan listed in depth his grievances with the Scot.
Tan criticised 41-year-old Mackay at length in a range of areas, such as signings, transfer budgets, results on the pitch and style of play.
The Malaysian businessman also questioned the former Watford manager's record as a boss.
Mackay has previously said he will not resign.
A Cardiff spokesman told BBC Sport: "The club is not party to any letter sent from one person to another."
The correspondence came on the same day the Malaysian businessman issued a statement through Cardiff chief executive Simon Lim criticising Mackay.
Tan said he was "extremely upset" after Mackay revealed he was hoping to recruit three new players in the January transfer window.
The ex-Scotland international, who was named Cardiff boss in June 2011, led the Welsh club to promotion from the Championship seven months ago, but his future became uncertain when head of recruitment, Iain Moody, was removed from his position in October.
One of Tan's concerns surround a perceived overspend of the transfer budget agreed between Mackay, Lim and Moody.
Cardiff broke their transfer record three times over the summer, signing striker Andreas Cornelius for £7.5m, defender Steven Caulker for £8m and then midfielder Gary Medel for £11m.
The owner claims the total budget was £35m and that £50m was spent including add-ons.
Mackay and Moody have denied those claims, insisting the £35m was solely for transfer fees and that Lim and Tan had no complaints about that rising with add-ons.
Former England manager Graham Taylor, who worked with Mackay when he was chairman of Watford, believes the Scot should stand his ground.
"Malky has an inner strength and I see no reason why he would resign," Taylor told BBC Radio 5 live.
"'Let them sack you, Malky', is what I would say to him. He has a contract and if one party pulls out of it they should be made to pay up the remainder of that contract."
He added: "Who is Tan to know these things? Yes, from an ownership point of view and financial point of view, of course he has some knowledge.
"But in terms of situations from a football point of view, what does he know about the game? What does he know about professional football?"
Former Cardiff City captain Jason Perry believes should Tan allow Mackay to depart, it would damage the club's Premier League survival hopes.
"It's the pantomime season and Vincent Tan wants to play the villain. He's doing a very good job of that in South Wales," he said.
"Nothing is guaranteed but what you do have at the moment is a manager capable of keeping the team in the Premier League.
"Of course we all want a little bit better - that's football fans - but sometimes you've got to be careful what you wish for."
The Bluebirds, who are 15th in the Premier League, are away to Liverpool on Saturday.