Poyet unhappy with Sunderland's festive fixture pile-up
Last updated on .From the section Football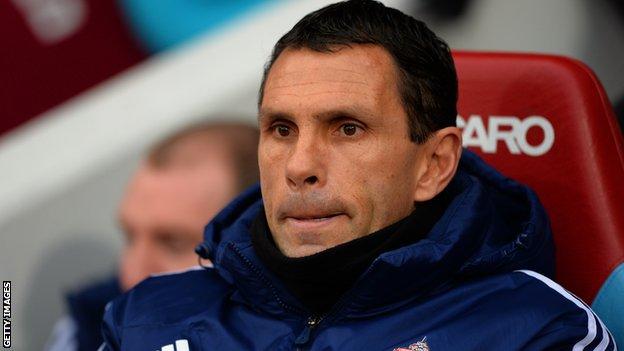 Sunderland boss Gus Poyet has criticised their festive fixture pile-up and supported calls for a winter break to aid England's World Cup bid.
Poyet's reached the Capital One Cup semi-finals on Tuesday - and so could face up to 12 games in 39 days if they make the FA Cup fourth round.
He said: "The next five or six weeks is something I don't understand.
"Why are the rest of the world probably on holidays next week and we must play 250,000 games in a month and a half?"
Sunderland's busy run of fixtures over that 39-day period begins with a Premier League home game against Norwich on Saturday and is set to end with a home game against Stoke City on 28 January.
During that spell, they are scheduled to play seven league games, a two-legged Capital One Cup semi-final against Manchester United and an FA Cup third-round tie at home to League One side Carlisle.
The former Uruguay midfielder is used to the festive demands of English football, having played for Chelsea for four years from 1997, then for Tottenham from 2001 to 2004. He also managed Brighton from 2009 until he left the club in June.
He believes a winter break would benefit the professional game in England, arguing that footballers are asked to play too much over Christmas.
"Nobody will convince me - it's not normal, " he said. "I will even give you Boxing Day, I agree it is a special day in history and everybody wants to play that day - but then take the 27th off until the middle of January.
"Then probably your national team players will get you to the World Cup in a better condition. But I'm not in charge. It doesn't matter how many times I say it - the winter break is needed and we don't take it."
But Poyet is not complaining about the prospect of facing Manchester United in next month's two-legged Capital One Cup semi-final, having beaten Chelsea 2-1 on Tuesday to set up the clash.
"We knew it was going to be a Premier League team and we know if we are going to win it we need to go through a tough semi-final and maybe an even tougher final," he added.