Raja revel in historic victory
Last updated on .From the section Football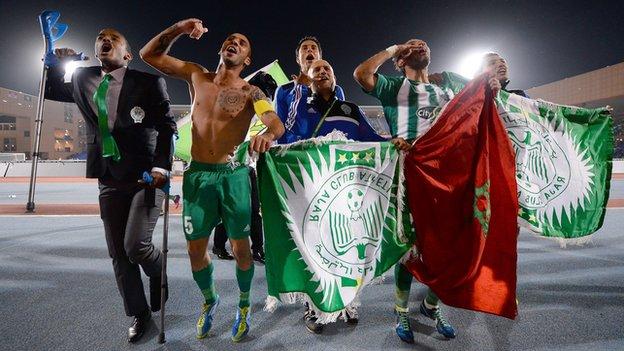 Play it again, Sam.
Just like that famous misquotation from the classic film Casablanca, Morocco's most powerful football team have not been reading the script at this year's Club World Cup.
Raja Casablanca pulled off a shock 3-1 victory over Brazil's Atletico Mineiro on Wednesday to set up a final against the reigning German and European champions Bayern Munich in Marrakech on Saturday.
The Green Eagles entered into the tournament by virtue of being the champions of the host nation and were expected to fall to Ronaldinho's Mineiro.
But instead it is the Brazilian legend and two-time World Footballer of the Year who will go home empty-handed - and without his boots, which were claimed at the end of the match by awestruck Casablanca players Kouko Guehi and Vivien Mabide.
That souvenir hunting is a measure of the size of Raja's achievement in becoming the first Moroccan club and only the second African side to make it to the Club World Cup final.
They are now hoping to go one better than DR Congo's TP Mazembe, who were runners-up in 2010.
Mabide, who not only grabbed a memento of the match but also scored his side's third goal with virtually the last kick of the game, told BBC Sport: "We're all very pleased after this match and reaching the final is history for Moroccan football.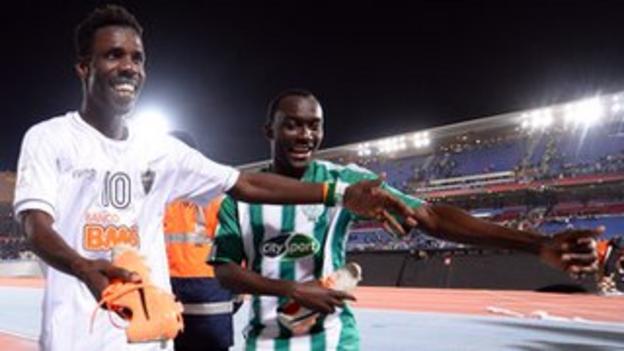 "We proved in front of the fans and in front of everyone that we could win and we are so happy."
Founded in 1949 Raja, who are considered to be the club of the people, have an impressive pedigree. They have won the Moroccan league 11 times, lifted the Moroccan Cup seven times and been crowned African Champions League winners three times.
But their only other appearance at the Club World Cup - at the inaugural tournament in Brazil in 2000 - was rather less successful.
They lost all three matches, beaten 2-0 by Brazil's Corinthians, 4-3 by Al Nassr of Saudi Arabia and 3-2 by Spanish giants Real Madrid.
And with their last continental success coming in 1999 it was not surprising they were regarded as rank outsiders in this year's tournament.
The secret to their run to the final, according to Raja skipper Mohaine Moutaouali, is that they have shown no fear.
"In this competition we have played against big names and also players that we have never heard of, but we have always played like men," Moutaouali told BBC Sport.
Moutaouali has led by example, particularly when he converted a penalty against Mineiro in the 83rd minute to put his side 2-1 up.
"I was calm because I knew that even if I missed, the game was not over for us," he said.
And it appears that Moutaouali and his men are not frightened of the prospect of facing Bayern Munich - the five-time European champions, who have also won the German league a record 23 times.
"We respect Bayern a lot but we are going to play just like we did in the other games, and will do our best to win the game," added Moutaouali.
Echoing his captain's anything-is-possible attitude, Central African Republic international Mabide said: "The final will be a tough game. On paper Bayern may have already won the final but in football the ball is round for everyone.
"We cannot wait for Saturday, we'll do our best and try to get a result."
While Raja have rewarded their passionate and vocal fans with another huge match to look forward to, Mineiro coach Cuca found it necessary to apologise to the 10,000 fans who had travelled from Brazil to support their team.
"We are all ashamed," he said. "There are so many fans who stopped at nothing to come here, humble people who saved up for years and we frustrated their dreams.
"Almost everyone played badly. We have to be responsible, professional and divide the blame for a bad game and apologise to our fans."
In contrast, Raja coach Faouzi Benzarti is relishing the chance to give the club's supporters more reason to cheer.
"It's no accident that we're in the final - it's the product of hard work. My thanks go to our unbelievable fans, their support is immensely valuable to us and we aim to make them happy in return," said Benzarti ,who only took over as Raja coach two weeks before the tournament when M'hamed Fakhir was fired.
"Now we have to recover as quickly as possible before our final preparations for the final against Bayern Munich.
"They're a fantastic team who won three titles last season, and in Pep Guardiola they have a great coach who has already embedded his football philosophy in the team.
"But we'll go into the final with confidence too, believe in ourselves and give our all once more."
Additional reporting by Nick Cavell and Barney Cullum in Morocco.