Robbie Rogers says no gay players have contacted him
Last updated on .From the section Football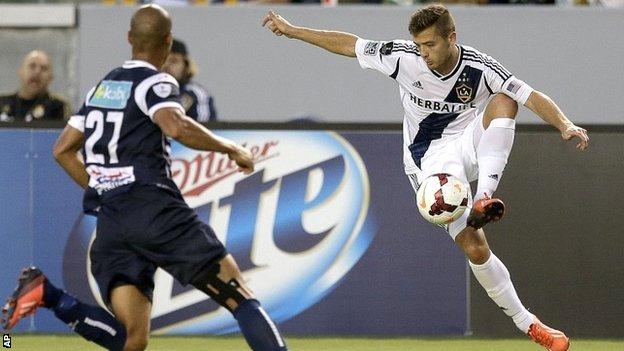 Robbie Rogers says he has not been contacted by any fellow gay professional footballers since revealing his sexuality in February.
The former Leeds player, 26, quit the game before making his announcement, but is now back playing in his native United States for LA Galaxy.
"I haven't received a letter or text or anything from one footballer that wants to talk about these issues," he said.
He thinks that is because players are too scared to do so.
"I've received phone calls and I've spoken with all my friends here in the UK and around the world that have supported me, but I haven't had one message from a [gay] footballer," he told BBC Newsnight.
"It reminds me of the fear that I had - you remember that atmosphere and how it made you feel. It just shows there's a huge problem.
"What do you do to change that, do you try to support them to create an environment that would support them to come out and they would feel comfortable in? It's really tough."
Winger Rogers is the first footballer with experience of playing professionally in England to come out since Justin Fashanu publicly revealed his sexuality in 1990.
The US international said the reaction had been "very, very supportive".
He also said he now saw himself as having a duty to football after revealing his sexuality.
"No one's done it so I had no one to look up to [in order] to test the waters before I went out there," he added.
"I know and I realise I'm the only one that's doing this. I do feel a responsibility."