Rangers: Paul Murray can help board - Dave King
Last updated on .From the section Football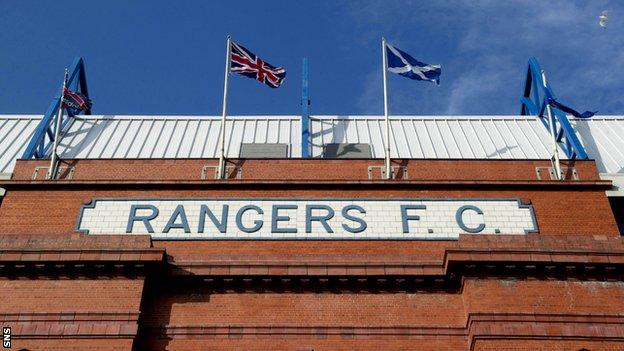 Dave King is urging the current Rangers regime to offer an "olive branch" to supporters by inviting rival Paul Murray onto the board.
And the former Ibrox director remains "more than keen" to get involved with the running of the club.
Murray is among a group of challengers who are destined not to win enough votes to join the board at Thursday's annual general meeting of shareholders.
But King thinks hiring Murray would be well received by fans.
However, Murray, also a former director, later told BBC Scotland that he would not work alongside finance director Brian Stockbridge.
Murray and his fellow "requisitioners" Malcolm Murray, Alex Wilson and Scott Murdoch will not win sufficient backing for directorships, with figures of proxy votes indicating chairman David Somers, chief executive Graham Wallace, Stockbridge and two other directors will be re-elected.
"I would hope that if this does turn out to be true they will reach out a little bit and invite Paul Murray onto the board," said King.
"I think it would help them, if their position is secure and they know it to be secure, to at least get Paul on board.
"I can't comment on Malcolm Murray and whether he should be invited on as I have only met him a couple of times and that's the same with the other two gentlemen, who I don't know at all.
"But it would really help the incumbents to get someone of Paul's experience onto the board. He's a good Rangers man and a good businessman. He knows what it's about and is interested in the club for all the right reasons. It makes good business sense.
"I think it would send the right signal - almost an olive branch - to the supporters. It would be a very smart thing to do. It would be a very sensible, pragmatic and practical gesture from the board.
"That might help the fans because they would have a high level of confidence in Paul's attitude and experience. They would know he would be there for the right reasons and for the long-term."
The battle for boardroom control has been acrimonious and Rangers are calling for Murray to withdraw his accusation that the incumbent board may have leaked voting figures ahead of the AGM.
"The board are dismayed that an experienced businessman with knowledge of city practises could suggest that our board would leak information to the media," said a club spokesman.
"In point of fact, the board did not have the final voting figures and therefore it would have been physically impossible to leak anything."
Murray was quoted saying: "The only two groups privy to this information would be Capita (who will verify the poll) or the Rangers board. If either of those parties have indeed leaked this data then it is an extremely serious matter."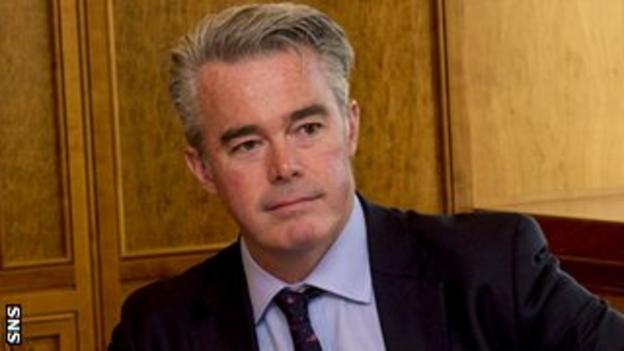 Capita have since released a statement saying they "observe the highest standards of confidentiality and integrity as a matter of course" but add that they will conduct "a detailed investigation into the circumstances surrounding the alleged leak of information".
Fans used a red card protest to signal their displeasure with the current regime during their last home game but South Africa-based King, who invested £20m in Rangers during Sir David Murray's reign as chairman, believes the board can win over their critics.
"One of the difficulties that the Rangers fans have had for a couple of years now is that they haven't been anywhere near the top of anyone's considerations about what's been happening at the club," said King.
"They have been dealt with once or twice a year when the club needed money from season tickets.
"There's been so much bickering and squabbling, changes in ownership and arguments about who is behind it all and who is not.
"But the one thing we will get after Thursday is some certainty.
"Am I still keen to get involved? Absolutely, absolutely. More than keen."
On the eve of the AGM, Murray repeated his concerns about the club's finances and ability to attract investment, although he described himself as a "great supporter of Dave King".
"Anyone can see the club needs more money," he told BBC Scotland. "It's the most fundamental thing the club is facing.
"I can only go by my own calculations but Brian Stockbridge said publicly that there would be £1m left by April and there have been some high-profile pay-offs since then."