Bus attacked after Ards-Cliftonville semi-final in Bangor
Last updated on .From the section Football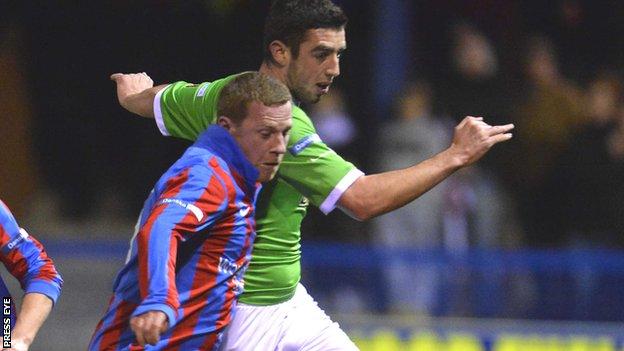 Police are investigating an attack on a bus containing Cliftonville fans after the League Cup semi-final against Ards at Clandeboye Park on Tuesday night.
A window in the vehicle was damaged while the PSNI said they were "also aware of a number of allegations of sectarian chanting" at the game.
The Northern Ireland Football League said it was "disappointed" about the reported incidents in Bangor.
It added: "These so-called fans are not welcome at any of our games."
The NIF is awaiting the referee and match observer reports from the semi-final.
It said: "It is frustrating that we are having to deal with incidents like this when the NIFL and our clubs have begun what is perhaps the most important restructuring and rebranding process that has ever been undertaken on football in Northern Ireland.
"This process is vitally important for the future direction of football in Northern Ireland and we will not allow incidents like those reported at Clandeboye Park to detract from what we are trying to achieve for our domestic game. "
Goals from Martin Donnelly and Joe Gormley gave Cliftonville a 2-0 win.
Donnelly curled the Reds ahead with a 26th-minute free-kick before Gormley doubled Cliftonville's lead on the stroke of half-time.
The holders will face Crusaders, who defeated Ballymena United 4-3 at Seaview, in the decider on Saturday, 25 January.