Guernsey FC's Tony Vance says Jersey 'crazy' not to follow example
Last updated on .From the section Football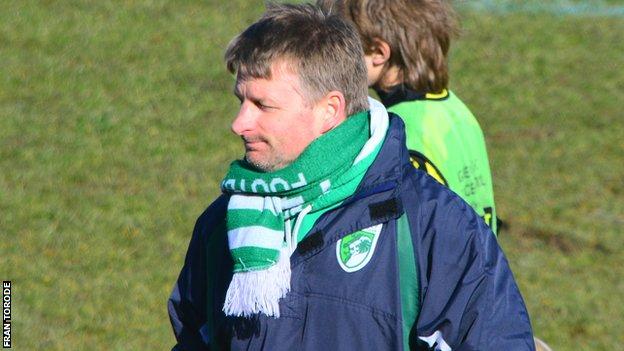 Guernsey FC boss Tony Vance says Jersey are in danger of being left behind by their Channel Islands rivals amid a debate over playing in the UK leagues.
The Green Lions, who compete in the Ryman League South, were formed in 2011 to bring Guernsey's best players together to compete against UK teams.
"It's crazy they're not considering it," Vance told BBC Guernsey.
The Jersey Football Association has consistently said that any decision would be down to individual clubs to make, insisting it has "no mandate" to push through such a change.
But Vance said the benefits of Guernsey FC's participation in the UK leagues were significant and suggested that it had started to have an impact in the annual Muratti clash between the two islands.
"I'd be incredibly jealous and envious if Jersey were doing it and we weren't," said Vance.
"We've stolen a march on them and the level of our football in the last two Muratti results and performances have proved that.
"I believe Jersey need to look at that very quickly. Luke Watson's come out to talk about it and I don't blame him.
"Why wouldn't you want to be tested week-in, week-out rather than one game a year which is all that Jersey have to look forward to at the moment?"
Vance conceded that there were financial barriers to any other team following in Guernsey FC's footsteps.
"On the playing side, the opportunities for development are there for all to see and I think we've proved that over the last few years," he said.
"But off the field, to ensure the club is sustainable you need a lot of support, financially and in terms of your crowd and that would be the one thing I might suggest Jersey could fall down on.
"They don't seem to have the level of support that we do here."