Mark Sampson: Affable & friendly, but not to be messed with
By Natalie Pirks
BBC sports news correspondent
Last updated on .From the section Women's Football
There was little fanfare. No breaking news straps. No flashing cameras. Only a handful of journalists.
Yet the challenges ahead for Mark Sampson are not all that different to those facing Roy Hodgson when the latter leads England's men to the World Cup in Brazil next June.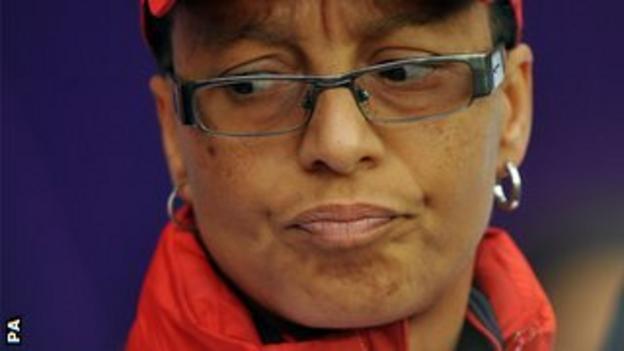 Sampson has been tasked with taking over from Hope Powell, whose 15-year reign as England's women's manager came to an end following a disastrous European Championships campaign this year.
The Football Association took its time in appointing her successor, in the end taking what some might call a risk with a man, younger than some of his players, who is not even English.
Yet, in the 31-year-old Welshman, the FA clearly saw a passion and a vision that could take the women's game forward.
Sampson led Bristol Academy to two FA Cup finals and to their highest finish of second in the Women's Super League last season, achieving Champions League status on minimum funds in a league where other teams are starting to splash the cash.
Prior to his five years there, he was manager of Swansea's centre of excellence under the guidance of one Roberto Martinez.
Sampson meets his new squad for the first time in January for a training camp in La Manga and has already shown he is not afraid to bring in new faces - and omit some older ones like Rachel Yankey, England's most capped player.
"It's a big job, but I'm ready to make the right decisions," he told me. "I'll work with staff and players so we're as successful as we can be. If I feel something is right and it's way forward for team, they're decisions I'll make."
His eyes sparkle with excitement as he talks about this new challenge.
He is affable and friendly, but you also get the sense he is not to be messed with - in many ways similar to Hodgson, whom I had interviewed less than 24 hours earlier.
More than three decades separate them in age and experience but Hodgson is also a pleasure to talk to, both learned and polite.
However, the 66-year-old is not the pussycat fans mistake him to be, pulling up anyone - myself included - when he thinks they are wrong.
It would, of course, be naive to suggest Sampson is under anything like the kind of pressure Hodgson faces from the media and general public.
Most journalists and football fans would struggle to tell you his name right now.
Yet both Hodgson and Sampson inherited squads that failed to deliver at a major tournament. Both were outsiders to land the job. And both are tasked with restoring faith in the national game with World Cups on the horizon.
Women's football is far from the beast that the men's game is.
The players do not come with the same riches, status or, frankly, egos - but slowly the women's game is making us sit up and take notice.
Far from seeing the press coverage Hodgson deals with as intrusive, Sampson told me he positively desires it.
And something about that twinkle in his eye makes you believe he will get it one day, too.