Aubameyang denies saying he is faster than Usain Bolt
Last updated on .From the section Football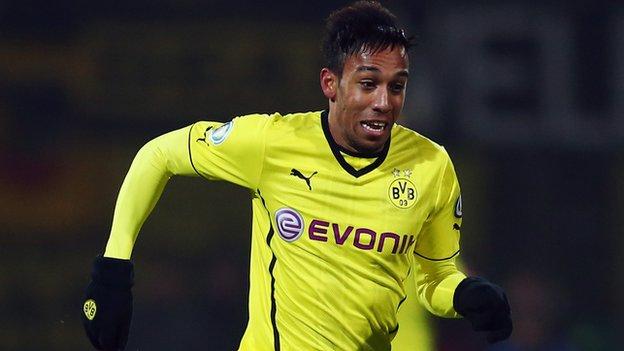 Borussia Dortmund's Pierre-Emerick Aubameyang denies saying he is faster than 100m word record holder and six-time Olympic champion Usain Bolt.
Aubameyang, 24, was reported to have made the claim on a German TV show.
But on Wednesday he said on Twitter: "I never said I'm faster than Bolt, I just said I can run 30m in 3.7 seconds."
Aubameyang's initial commented provoked German sprinter Julian Reus to challenge him to a race - and the striker has since accepted.
The Gabon international has reportedly clocked 3.7 seconds over 30 metres in training - 0.08 seconds faster than Jamaican Bolt ran when he set the 100m world record of 9.58secs in 2009.
But Reus said: "It is a blatant myth that Aubameyang is faster than Usain Bolt.
"What Aubameyang claimed on television really annoyed me. I want to restore athletics' honour."
And on his Twitter page on Wednesday, the 25-year-old Reus, who has a personal best over 100m of 10.08secs, repeated his challenge to Aubameyang for the pair to race.
Aubameyang, who has scored nine goals in the Bundesliga this season, replied: "@Julian_Reus Sure I accept your challenge it's nice for me and after this run I know if I can change job or not."