Managerial departures: 'Sacked' seems to be the hardest word
Last updated on .From the section Football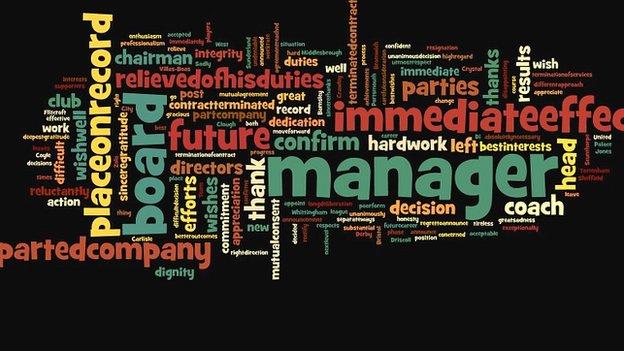 Aaah, how much simpler life would be if all our love affairs ended "by mutual consent". But they almost never do, however much we kid ourselves.
"Whose decision was it?" they ask. "It was mutual," we answer. Hoping they didn't notice the furtive eyes and the quivering lip. Hoping they didn't notice the embarrassing public rows, the transparent lack of romance and the affair she had with that hedge fund manager who was funnier and better looking than you.
The language of football sackings is the calculated language of broken love: "It is with great sadness";"we wish you well for the future". Lies and euphemisms. We will never see a sacking statement that reads: "He lacked imagination. He was dull. He stopped turning us on."
Andre Villas-Boas knows there was nothing mutual about his parting from Tottenham Hotspur.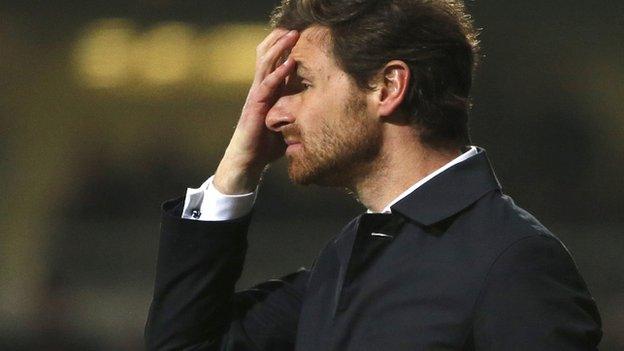 "I won't resign and I'm not a quitter," said a defiant Villas-Boas following Sunday's 5-0 defeat by Liverpool at White Hart Lane. He sounded like someone about to get dumped. Because he was. By mutual consent.
Martin Jol knew there was nothing mutual about his parting from Fulham earlier this month. And then he said things like this: "It was a privilege"; "Fulham are one of the great clubs"; "I will always treasure this experience".
It was the footballing equivalent of "let's be friends". And, along with the golden handshake, all part of the pre-nuptial agreement: be reasonable and we won't cut up your suits, smash up your record collection and throw the smithereens on the front lawn for potential suitors to gawp at.
Five Premier League managers have been dumped since the start of the season and a further 15 in the Football League. Almost all by euphemism.
For Championship outfit Wigan, it was "in the interests of both parties" that Owen Coyle be dumped. Martin Allen was dumped by Gillingham despite the League One club "very much enjoying the experience of working with him".
Portsmouth "regretted to announce" dumping Guy Whittingham, which is doubtful given they were 18th in League Two at the time.
Once a club has dumped a manager - or "relieved him of his duties" (four times this season) or they have "parted company" (also four times) - it is often the job of a caretaker manager to begin a "period of rebuilding".
The caretaker manager is not a lover in the strictest sense, more of a crutch, a shoulder to cry on, a "safe pair of hands" to "steady the ship" while the club gets "back on its feet".
Once a club has got over their "I just don't know what I want" phase - which doesn't usually last that long - a new permanent manager will be appointed. One who has "worked wonders" elsewhere, which is another way of saying they expect him to be a far more vigorous lover than the last one.
A new manager with a "war chest" is a new lover bearing gifts from exotic, faraway lands. A new manager is a new lover attempting to buy his way into a club's heart forever. With somebody else's money.
A manager's "honeymoon period" is usually more redolent of a holiday in Benghazi than a relaxing break in the Maldives and usually ends in a blazing row. And then comes the "period of transition", which often kicks in when the manager has blown all the money without managing to win the club over.
Think of the "period of transition" as that stage in a relationship when a once love-struck couple have been reduced to "trying to work things out". In which case, Tottenham have been locked in an unbroken chain of periods of transition since their League and Cup double in 1961.
At some point in the "period of transition" a club's eyes will start to rove, convinced as the club are that there must be somebody working greater wonders elsewhere. And then the "courting" of new managers will begin.
There is never a shortage of managers wanting to be courted. Men issuing "come and get me pleas", men wanting "to get back in the game", men who have "always loved the way this club and that club have done things".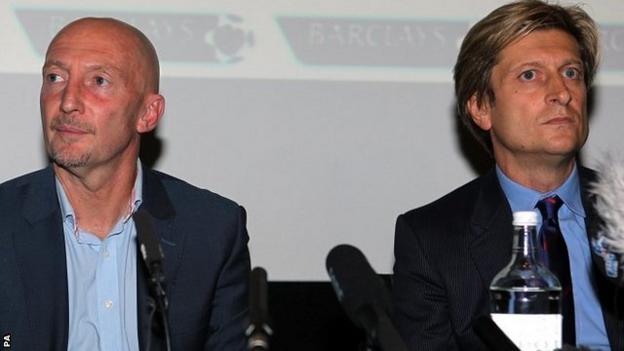 Next, the by now "beleaguered" and "under-fire" incumbent manager will receive the "vote of confidence" from his club. And if he's really beleaguered and under-fire, he will receive the "dreaded vote of confidence".
This is the footballing equivalent of the "something has to change" conversation, which usually ends with both parties knowing full well that nothing is going to change.
Then comes 'the chat', often prefaced by that chilling phrase: "We need to talk." A wise manager will anticipate a chairman's "we need to talk" and trump him with "it's not you, it's me, I think we should split up".
Ian Holloway did exactly that to Crystal Palace in October, thus ensuring the Eagles didn't feel too bad about it not working out and that the relationship ended in hugs and kisses.
But more usually a "doomed" manager will come over all Villas-Boas - "You mean to say you're dumping me?!" - and go out kicking and screaming. They will wring their hands, well up and promise that things will change, forgetting they had that conversation already.
And so the deed is done. "We have very much enjoyed working with you… but this has been a gruelling year… so after much consideration… it is with great sadness we have made the decision… the best thing for both parties is that we go our separate ways... by mutual consent, of course..."