FA Trophy: Cambridge United director calls for format change
Last updated on .From the section Football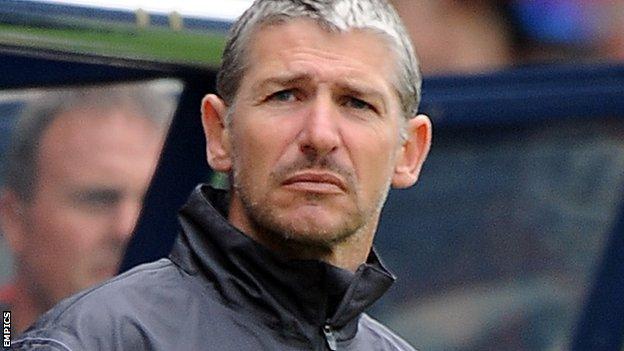 Cambridge United director of football Jez George has called for the FA Trophy to be modelled on the Capital One Cup, with midweek fixtures and no replays.
FA Trophy matches are typically scheduled for the weekend, with replays often played in midweek.
"From a football perspective you're very nervous about a fixture pile-up at the end of the season," George told BBC Radio Cambridgeshire.
"From a financial perspective you know that you don't get as a big a crowd."
He added: "[In the league] big clubs treat the Capital One Cup much more seriously because it's a midweek competition and there are no replays, so you can plan and use your resources knowing it will not interfere too much with your league programme."
The U's qualified for the third round of the FA Trophy with a 2-1 win over St Albans and will play fellow Conference Premier high-flyers Luton on Saturday 11 January.
George says previous calls to the Football Association for a change to the format of the tournament have been in vain.
"As a football club we represented those who articulated that point of view and we were told it was something that could not be considered, which I think is short-sighted," he said.
"The problem with the FA Trophy is not so much which team to pick and having enough players, it's that every time you progress the next round is going to be on a Saturday and you're going to lose a league game, and we already play 46 league games."
Cambridge's home gates have averaged over 3,000 this season, but their last home tie in the FA Trophy against Gateshead in December 2012 pulled in just 1,091 fans.
George says the further a team progresses in the competition the more damage it can do to home gates for league matches.
"We know that if certain league games are rearranged in February and March on a Tuesday night which clashes with Champions League fixtures it hinders your league crowd so it's a double-whammy where you lose a good crowd on a Saturday for a lower crowd on a Tuesday," he said.
"The FA Trophy needs looking at because now the rules and the way it's organised does everything possible to deter the bigger clubs from taking it seriously."
Despite calling for change, George admitted that Cambridge United's third round home tie against Luton should still pull the crowds in.
"I think it is as big a game as possible at this stage of the competition and it will in some way compensate the fact that we're going to miss a home game in January, that obviously has cash flow implications," he said.
"For many reasons - geographically, proximity in the league and history of different people at both clubs - it a big rivalry."