Cardiff City: Fans group backs Malky Mackay in Vincent Tan row
Last updated on .From the section Cardiff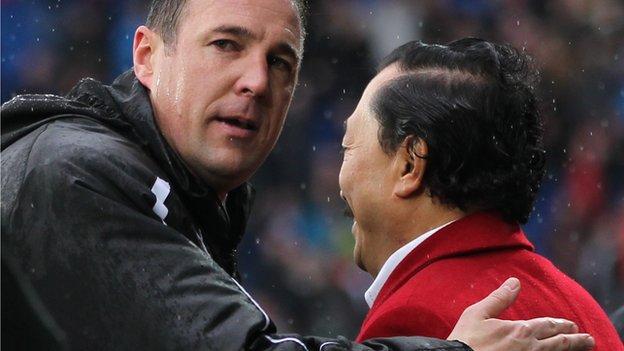 A Cardiff City fans group has backed manager Malky Mackay after he was publicly criticised by club owner Vincent Tan.
The Malaysian is "extremely upset" over Mackay wanting three players in the January transfer window.
Tan said in a club statement there had been a £15m overspend in the summer.
"It's a very sad state of affairs. The fans will back Mackay because he is popular," said Tim Hartley, chair of the Cardiff City Supporters Trust.
Tan's criticism of Mackay came through a statement from club chief executive Simon Lim on Monday.
Lim said: "Tan Sri Vincent Tan was extremely upset to read quotes from the manager concerning the possibility of new recruits, before he had been informed whether funds would be made available.
"He believes that doing so unfairly raises supporter expectations, placing unnecessary pressure on the club.
"His view is that due to the funds already committed, including the originally-authorised summer transfer budget of £35m that rose to £50m in total, including add-ons, the manager has been fully supported."
Hartley says he is "staggered" by the statement and fears the relationship between manager and owner will deteriorate now the row is being fought out in public.
He warns that the public nature of Tan's complaints might be a tactic to force Mackay out.
"It seems to be fuelling a fire that was already there," said Hartley on BBC Radio Wales' Good Morning Wales programme..
"There was rumour, allegation and counter-allegation in private but now it seems to have spilled over into the public. To do this in public, it just looks bad and it does not augur well.
"Now, is Vincent Tan trying to force Malky Mackay out? I hope not.
"I'm extremely upset and actually quite staggered at the tone of this release from Simon Lim, the club's chief executive.
"We are used to chairmen and managers of football clubs having spats but to do your dirty washing in public does raise a question of the long term relationship between Malky Mackay and Vincent Tan.
"There has been great support for Malky Mackay over the dismissal of Iain Moody. We now understand that [the dismissal] was because of an overspend of £15m
"It is interesting this statement came out of from Simon. As chief executive and accounting officer for Cardiff you would have thought he would have been signing off on contracts worth many millions of pounds.
"Who is in the wrong here? We don't know that, but it looks very bad for Cardiff City at the moment.
"There's only going to be one winner in this battle and that is Vincent Tan and that goes back to the nature of club ownership in England and Wales."
Cardiff are in 15th place in the Premier League table, four points above the relegation zone, after gaining promotion from the Championship last season.