Real Madrid and Barcelona face European Union investigation
Last updated on .From the section European Football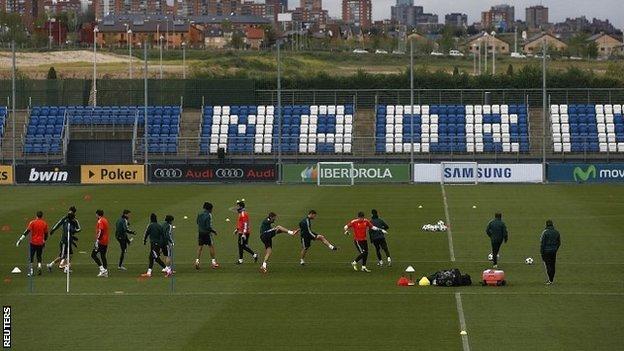 Real Madrid and Barcelona are among seven Spanish clubs to be investigated by the European Commission (EC) over alleged irregular public funding.
Fellow La Liga teams Osasuna, Athletic Bilbao, Valencia, Elche and second-tier Hercules are under investigation.
Sporting clubs Real Madrid, Barcelona, Athletic Bilbao and Osasuna are accused of a corporate tax advantage of 5%.
Real are alleged to have sold training ground land to the City of Madrid at an over-inflated price of 22.7m euros.
Valencia-based clubs Valencia, Hercules and Elche are alleged to have received state-backed loans up to 75m euros.
If the clubs are found guilty, the money would be redistributed back to the Spanish government.
A commission statement read: "The EC has opened three distinct in-depth investigations to verify whether various public support measures in favour of certain Spanish clubs are in line with EU state aid rules."
Spain's foreign minister Jose Manuel Garcia Margallo denied that the clubs had broken EU rules, adding: "The government will fight to defend Spanish clubs because they're also part of the Spanish brand."
The investigation comes as Uefa, European football's governing body, begins to enforce its Financial Fair Play rules, encouraging teams to live within their own means.
Proceedings could take months to conclude.
The commission's statement continued: "The commission will firstly investigate possible tax privileges for Real Madrid, Barcelona, Athletic Bilbao, and Osasuna.
"These four clubs are exempted from the general obligation for professional football clubs to convert into sport limited companies. The effect of this exemption is that these clubs enjoy a preferential corporate tax rate of 25% instead of 30% applicable to sport limited companies."
"In another inquiry it will assess whether a widely reported land transfer between the City of Madrid and the club Real Madrid involved any state aid in favour of the club.
"Real Madrid appears to have benefited from a very advantageous real property swap with the City of Madrid. This swap was based on a re-evaluation of a plot of land at a value of 22.7m euros, instead of its earlier supposed value in 1998 of 595,000 euros.
"Finally, it will examine the compliance with EU state aid rules of guarantees given by the state-owned Valencia Institute of Finance for loans that were used to finance the three Valencia clubs - Valencia, Hercules and Elche - while those clubs were seemingly undergoing financial difficulties."
Valencia are alleged to have received 75m euros, Hercules 18m euros, and Elche 14m euros.
Joaquin Almunia, the commission vice-president in charge of competition policy, said: "Professional football clubs should finance their running costs and investments with sound financial management rather than at the expense of the taxpayer. Member states and public authorities must comply with EU rules on state aid in this sector as in all economic sectors."