Josip Simunic: Croatia defender banned for 10 matches
Last updated on .From the section European Football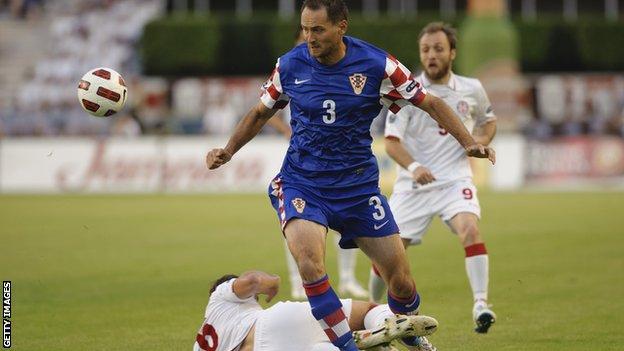 Croatia defender Josip Simunic will miss the 2014 World Cup after being given a 10-match ban by Fifa for discriminatory behaviour.
"The salute was discriminatory and offended the dignity of a group of persons," Fifa said in a statement.
Simunic, who denies any political intent, was also fined £20,000.
Following the win in Zagreb, Simunic, who has 105 caps for his country, shouted "for the homeland" over a microphone, to which fans respond "ready".
The chant has associations with the Ustasha, a fascist movement which was banned in 1945.
Football's world governing body, Fifa, said in a statement: "After taking into account all of the circumstances of the case, and particularly given the gravity of the incident, the committee decided to suspend the player for ten official matches.
"Moreover, the committee decided that the player will be banned from entering the confines of the stadiums with regard to the ten matches for which he is suspended."
The first match of the ban will be the opening game of the 2014 tournament, when Croatia take on Brazil in Sao Paulo, with the remainder being served throughout the tournament and in future matches.
Australian-born Simunic is Croatia's third-most capped player and has played in two World Cups and three European Championships.
"Even the thought that someone could put me in the context of incitement of hatred or violence is horrible," he said in a statement following the incident.
"As a Croatian who was born and grew up outside my homeland, I associate home with love, warmth and positive struggle - everything that we showed on the pitch to win our place in the World Cup."
Croatia, managed by Niko Kovac, have been drawn in Group A for the tournament in Brazil, alongside the hosts, Cameroon and Mexico.