Arsenal's Jack Wilshere to serve two-game ban for gesture
Last updated on .From the section Football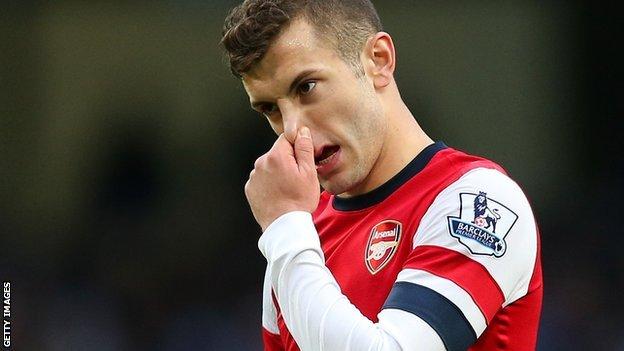 Arsenal midfielder Jack Wilshere will serve a two-game suspension for an abusive hand gesture.
The 21-year-old had admitted a Football Association charge but contested the mandatory length of ban.
An independent regulatory commission rejected his appeal after a hearing on Thursday.
Television pictures appeared to show Wilshere raising a finger towards the crowd during Saturday's 6-3 defeat by Manchester City.
The incident went unnoticed by match officials but was caught on video and assessed by the FA retrospectively.
An FA statement said: "Whilst admitting the charge, Wilshere claimed the standard sanction for this offence was clearly excessive.
"The commission rejected this claim and the two match suspension will commence with immediate effect."
The England international will miss Monday's match against Chelsea at Emirates Stadium and the Boxing Day fixture at West Ham.
Wilshere appeared to raise a finger towards the crowd on 68 minutes after disagreeing with a decision to award City a goal kick at Etihad Stadium.
Arsenal boss Arsene Wenger said after the match: "If he did it and he is banned then we will have to accept it."
The FA said he had been charged retrospectively under a new pilot project for potential 'not seen' incidents in Premier League matches.
"Under the new process, if an incident has not been seen by the match officials, a three-man panel will be asked by the FA to review it and advise what, if any action, they believe the match referee should have taken had it been witnessed at the time," said a spokesman.
"For an FA charge to follow, all three panel members must agree it is a sending-off offence. In this instance the panel was unanimous."
Liverpool striker Luis Suarez was suspended for one match, fined £20,000 and warned as to his future conduct after admitting an FA charge of improper conduct in 2011. Suarez, 26, raised the middle finger of his left hand as he walked off the pitch following a 1-0 defeat at Fulham.