Are Premier League chairmen really becoming more ruthless?

By David Bond
BBC sports editor
Last updated on .From the section Football533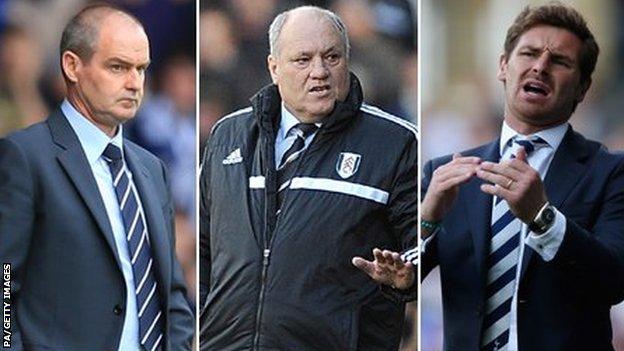 On Monday, Andre Villas-Boas became the fifth Premier League manager to be sacked this season when he was dismissed by Tottenham. Just two days earlier, Steve Clarke was shown the door by West Brom.
It represents a big leap from the last four seasons when clubs seemed to be prepared to play a slightly longer game. By the end of December 2012 only two managers had gone - Mark Hughes at Queens Park Rangers and Roberto Di Matteo at Chelsea. The year before, Steve Bruce's departure from Sunderland was the only casualty at Christmas.
You have to go back to 2008 to find a more ruthless start to a Premier League season. In that year, six managers were gone before January arrived.
The record for the first five months of the season is seven and that has happened twice - in 2007 and 2004.
So before everyone gets carried away with the idea that being a top-flight manager is more precarious than ever before, it's worth considering that the Premier League dugout has never been a place associated with job security.
Nevertheless, it does look like chairmen and chief executives are returning to old habits after a few years of preaching stability in the dressing room.
Why is this happening?
Well, the answer, as ever, would appear to be money.
This season heralded the start of the league's new £3bn domestic television rights deals with Sky and BT. That's a 60% increase on the previous deals and, once you take overseas rights into account, the media contracts could top £5bn over the next three years to 2015-16.
That roughly translates into an extra £25m a season for every club - even those bumping along the bottom. And while the parachute payments for the three relegated teams have also gone up, missing out is clearly not an option, especially with half the season still to play for.
It's a theory backed up by the fact that four of the five managers to leave clubs so far this season have gone from relegation-threatened clubs - Martin Jol at Fulham, Ian Holloway at Crystal Palace, Paolo Di Canio at Sunderland and Steve Clarke at West Brom.
The League Managers Association fear there could be more to follow in coming weeks, especially once the crucial Christmas holiday period has played out.
How does Villas-Boas fit into all this? The answer is, he doesn't.
It's a story very typical of, and unique to, the culture at White Hart Lane.
Yes, Spurs will be eyeing the Champions League places which already seem to be slipping away. But I am told there was still a will to give the 36-year-old Portuguese manager a chance to prove himself this season.
He was courted by Paris St-Germain and Real Madrid in the summer and Tottenham chairman Daniel Levy made it clear he didn't want him to leave.
When Gareth Bale was sold to Madrid for a new world record fee, Villas-Boas was given £100m of new talent to work with.
There was a willingness to give him the time to bed the new players in and build a new team.
And yet, all that seemed to change very quickly. A 3-0 home defeat by West Ham in October started the alarm bells ringing, and when Spurs lost 6-0 at Manchester City some of the club's senior figures started to wonder whether Jose Mourinho's former assistant was not all that special after all.
But it wasn't just results on the pitch. His handling of the head injury to goalkeeper Hugo Lloris - where he refused to substitute him against the advice of his own medical staff - left many at White Hart Lane asking questions about his judgment. Concerns also grew when he was critical of the club's supporters and a lack of atmosphere at home matches.
I am told some at Spurs felt he was becoming too difficult to work with. So when the results turned against him, he found there was no goodwill to help save him from the sack.
Having said all that, Tottenham are not entirely free of blame. A quick call to Chelsea might have revealed the more challenging sides to their manager's personality.
Stamford Bridge is arguably the most hazardous place for any manager to go, but even by Chelsea's standards Villa-Boas' nine-month tenure told you something was not quite right.
And then there is the question of Tottenham's unbending commitment to a coaching structure which sees the manager working alongside a director of football.
Villas-Boas seemed to hint Tottenham's current incumbent, Franco Baldini, may have played a part in his exit. It's been a familiar lament for the club's managerial casualties down the years.
Looking at Tottenham's level of spending over the last decade and their failure to establish themselves as a regular top-four team, one has to wonder whether Levy's commitment to the director of football model brings the stability and the level of success he and the club's financial backers desire.
But while the situation at Spurs is unusual, we might soon be witnessing similar outcomes at other top clubs in the next 18 months.
With BT doubling the TV money for Champions League rights from 2015 to almost £300m a year, the stakes are set to get even higher at both the top and bottom of the Premier League.
This is not yet a new, more brutal age for the manager. But it soon could be.
With a couple of weeks until the new year there is still time for records to be broken. But even if no other Premier League manager is forced out during this season of goodwill, the statistics seem to suggest we are witnessing a return to the more trigger-happy days at the summit of English football.